Hiking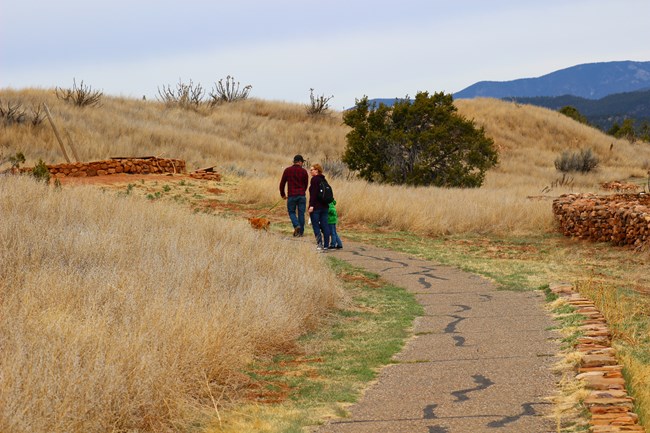 All trails are open during regular park hours. Pets are welcome on the trails, but please follow park rules. Please check the park's homepage for any possible closures.
If you plan on hiking any of our trails, please remember to hike smart! Following the five steps below can ensure you stay happy and healthy as you hike!
Stay Hydrated—water or electrolytes
Carry Food—salty foods especially
Wear Appropriate Clothing—jackets, gloves, hats, rain jackets/ponchos
Carry a First Aid Kit
Wear Sunscreen
Ancestral Sites Trail
1.25 mile/2 km roundtrip loop
Difficulty: Easy (gravel/dirt)
Elevation Change: 80 ft/23 m
The trail starts right behind the visitor center. It gives you a glimpse into the past as you pass by the ancestral sites of the Pecos Pueblo and the mission church. You will also enjoy beautiful vistas of the Sangre de Cristo Mountains and Glorieta Mesa as you venture around the trail. Trail guides are available to borrow or for purchase at the visitor center.
Glorieta Battlefield Trail
2.25 mile/3.6 km roundtrip loop
Difficulty: Moderately Strenuous (unpaved/gravel)
Elevation Change: 500 ft/152 m
The trailhead is a 7.5 mile drive from the visitor center. Winding through a forested area, this trail gives you a detailed look into the Civil War in New Mexico. As you walk around the trail, you will see wayside signs about the battle. Additional trail markers are along the trail that correspond with a trail guide. Trail guides are available for purchase at the visitor center.
South Pasture Loop Trail
4.5 mile/7.24 km roundtrip loop
Difficulty: Easy to Moderate (gravel/dirt)
Elevation Change: 100 ft/30 m
This old ranching road-turned-trail starts out at Fishing Beat 3 and winds its way through pasture lands. As you hike along the trail, you'll pass through a grove of cottonwoods along the Pecos River. The trail then loops back through pasture lands before ending at Fishing Beat 3. This trail has expansive views of the Pecos River, Sangre de Cristo Mountains, and Glorieta Mesa.
Important Notices: Pets of any kind are not allowed on this trail. This trail is only open during the summer months on a limited basis. Please inquire at the visitor center for specific dates or visit the park's calendar.
Last updated: May 22, 2019