Basic Information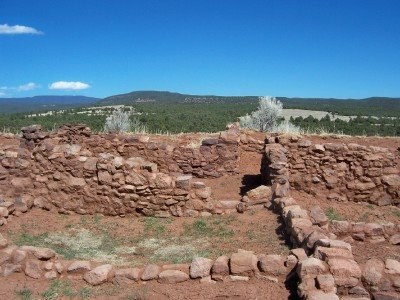 Welcome to Pecos National Historical Park!
In addition to the well-known pueblo and mission, the park offers many other connections to Southwestern history and culture, including:
a stage stop on the Santa Fe Trail

sites of the furthest west pivotal Civil War battle

New Mexico ranch history

Route 66 history

the summer home of Texas oil magnate Buddy Fogelson and his wife, actor Greer Garson, who developed many important and informative connections with the people and places of northern New Mexico.
Begin at the Visitor Center where you can watch an introductory film, view an excellent museum that covers the region's history and archeology. Before your walk you'll receive a narrative brochure. You can also purchase an interpretive guide to take on the Ancestral Sites trail with you. Be sure to wear sunscreen and bring a water bottle, which you can fill up with chilled water in the Visitor Center.

Leashed pets are allowed on certain trails. Ask about our B.A.R.K Ranger program!

We have several Junior Ranger programs--the Pecos NHP Jr. Ranger and the Not-So-Junior Ranger, the Santa Fe Trail Jr. Ranger, and the Santa Fe Trail Wagonmaster program!

When you hike around Pecos NHP, you'll likely come upon many shards and relics, especially from the pueblo. Please note that it is illegal to remove anything from a national park, and so we remind you to leave whatever you may see in place for the enjoyment of future generations.

Looking for other parks in New Mexico and beyond? Visit the Find Your Park page to search for parks throughout New Mexico and around the country.

Some other helpful links are listed below to help get your adventures at the park started!
Operating Hours
Guided Tours

We look forward to your visit to Pecos National Historical Park!
Last updated: March 17, 2022