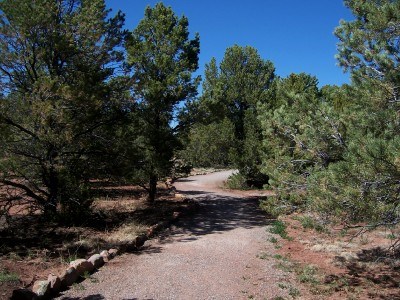 The Main Loop Trail
One mile of the 1.25 mile trail around the Pecos Pueblo and Church ruins is paved. The rest consists of a smooth gravel path. There's a 6-8 percent incline between numbers 1 and 5 along the interpretive path; it is accessible by wheelchair. There are no ramps. At the start and end of the trail, there are accessible restrooms. There are three places to sit (benches) along the way.
The E.E. Fogelson Visitor Center is accessible to people in wheelchairs. There are no stairs and there is no ramp leading to the facility, but all approach walkways are paved and there are no steep inclines near the structure. There are two nearby accessible parking spaces available in the visitor center parking lot. There is one accessible water fountain inside the Visitor Center. There's one wheelchair available for loan on request and no fee to use it.
There is a bench/reading room area in which to sit and a small theater as well. There is no pay phone.
The Visitor Center houses a museum, theater, and mural. There are bulletin boards, waysides, and site bulletins available that describe many components of the park's rich and varied history.