---
MENU
---
---

Brief History
---
---
---

Confinement and Ethnicity:

An Overview of World War II
Japanese American Relocation Sites

by J. Burton, M. Farrell, F. Lord, and R. Lord

---

Chapter 3 (continued)
A Brief History of Japanese American
Relocation During World War II
Relocation Centers
The relocation centers were located in isolated areas, most in deserts or swamps, perhaps unwittingly following newspaper columnist Henry McLemore's vitriol, "Herd 'em up, pack 'em off and give them the inside room of the badlands. Let 'em be pinched, hurt, hungry and dead up against it" (McLemore 1942).
The assembly centers at Manzanar and Poston were redesignated relocation centers and eight new sites in seven states were selected (Figure 3.9; Table 3.2). Over 300 possible sites were reviewed; primary consideration was given to locations with railroad access and agricultural potential (Madden 1969:23-25). Site selection was made by the WRA, but site acquisition was left to the War Department. The Relocation Centers were primarily on unused or underutilized federal lands. With the exception of the California Relocation Centers, all were in sparsely populated areas, making them some of the largest "communities" in their respective states.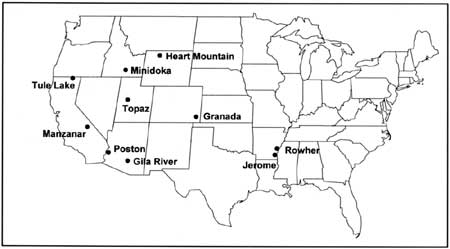 Figure 3.9. Relocation Centers.
(click image for larger size (~48K) )
Table 3.2.
WRA Relocation Centers (Daniels 1993:131; Thomas 1952:88).
---

Center
Date of
first arrival
Peak
population
Date of peak
population
Date of last
departure

---

Gila River
7-20-42
13,348
12-30-42
11-10-45
Granada
8-27-42
7,318
2-1-43
10-15-45
Heart Mountain
8-12-42
10,767
1-1-43
11-10-45
Jerome
10-6-42
8,497
2-11-43
6-30-44
Manzanar
3-21-42
10,046
9-22-42
11-21-45
Minidoka
8-10-42
9,397
3-1-43
10-28-45
Poston
5-8-42
17,814
9-2-42
11-28-45
Rohwer
9-18-42
8,475
3-11-43
11-30-45
Topaz
9-11-42
8,130
3-17-43
10-31-45
Tule Lake
5-27-42
18,789
12-25-44
3-20-46

---
The Tule Lake Relocation Center in California, the Minidoka Relocation Center in Idaho, and the Heart Mountain Relocation Center in Wyoming were located on undeveloped federal reclamation projects. The Jerome and Rohwer Relocation Centers in Arkansas were partially on land meant for subsistence homesteads under the Farm Security Administration; the balance of the site at Rohwer was bought from local farmers.
The Colorado River (Poston) and Gila River Relocation Centers in Arizona were both on Indian Reservations. Both Tribal Councils opposed the use of their land on the grounds that they did not want to participate in inflicting the same type of injustice as they had suffered, but they were overruled by the Army and the Bureau of Indian Affairs (BIA). In fact, in a verbal agreement Eisenhower had turned over administration of the Colorado River Relocation Center to the BIA. The WRA later resumed control of the center when Dillon Myer became WRA director.
The Central Utah Relocation Center (Topaz) had been part public domain, part county owned, and part privately owned. The Granada Relocation Center in Colorado had been privately owned and was purchased by the Army for the WRA (Daniels 1989; USDI 1946). The Manzanar Relocation Center was located on unused land held by the City of Los Angeles for its water rights.
Evacuees at assembly centers which had only pit latrines or which presented a fire hazard were the first priority for transfer to the relocation centers (DeWitt 1943:280). In theory, evacuees would be sent to the relocation center with the climate most similar to their home, and each relocation center would have a balance of urban and rural settlers. Evacuees were transferred from the assembly centers to the relocation centers by trains; this mass movement was carefully choreographed to avoid interrupting major troop movements.


Table 3.3.
Disposition of Assembly Centers (from DeWitt 1943:184).

---




---



Center
Transfer
Date
New Using Agency



---



Fresno
11/9/42
4th Air Force Training Command


Marysville
6/16/42
VII Army Corps


Mayer
6/27/42
Forest Service


Merced
9/30/42
4th Air Service Area Command


Pinedale
8/6/42
4th Air Force


Pomona
9/4/42
Ordnance Motor Transport


Portland
9/30/42
Portland Port of Embarkation


Sacramento
7/30/42
Signal Corps


Puyallup
9/30/42
9th Service Command


Salinas
7/24/42
VII Army Corps


Santa Anita
11/30/42
Ordnance


Stockton
10/30/42
4th Air Service Area Command


Tanforan
10/27/42
Northern Calif Sector, WDC


Tulare
9/15/42
VII Army Corps


Turlock
8/24/42
9th Service Command



---
The transfer process lasted from early June to October 30. Following the transfer of evacuees and supplies to the relocation centers all but two of the assembly and reception centers were turned over to various Army agencies or the U.S. Forest Service (Table 3.3).
Concurrently with the transfers from the assembly centers, the military decided to remove all Japanese Americans from the remainder of California. The eastern portion of California had been designated Military Area No. 2, and was not supposed to be as sensitive as Military Area No. 1, where all Japanese had already been removed from their homes to assembly centers. But, within the California portion of Military Area No. 2 there remained two concentrations of Japanese Americans immediately adjacent to Military Area No. 1, vital military installations, and important forests (DeWitt 1943:360). Over 9,000 people were directly moved from this area to the Tule Lake, Poston, and Gila River relocation centers between July 4 and August 11. This included many who had voluntarily moved out of Military Area No. 1 prior to Public Proclamation No. 4. Alaskan Japanese who were not picked up by the Department of Justice after the attack on Pearl Harbor were airlifted to Washington and then moved to Minidoka. Of the 151 people of Japanese ancestry removed from Alaska, about 50 were seal- and whale-hunting half-Eskimo or half-Aleut (Weglyn 1976:57).
Continued