---
MENU
---
---
---
---
---

Confinement and Ethnicity:

An Overview of World War II
Japanese American Relocation Sites

by J. Burton, M. Farrell, F. Lord, and R. Lord

---

Chapter 17 (continued)
Department of Justice and U.S. Army Facilities
Other U.S. Army Sites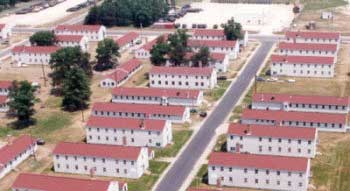 Figure 17.58. Camp McCoy today.
(from Badger Challenge 1999)

In February 1942, 170 Issei were transferred from the Sand Island Internment Camp in Hawaii to Camp McCoy, a former CCC Camp nine miles west of Tomah, Wisconsin. The internees were soon dispersed to other camps and the facility was converted into a training camp for the 100th Infantry Battalion, the all-Nisei Hawaii National Guard unit removed from Hawaii. Fort McCoy is currently used by the Wisconsin Army National Guard and a state-run "at-risk" residential youth program. Many of the original buildings remain at the site (Figure 17.58). A monument at the site commemorates its use as a training camp.

A segregated military base, Camp Forrest, Tennessee, held Japanese Hawaiians transferred from Camp McCoy. At Camp Forrest five men each were housed in small newly-built huts. Some Japanese Hawaiians and about 40 Issei from Fort Missoula were held at Fort Sam Houston along with 300 Alaskan Eskimos. Barracks were tents, surrounded by a barbed wire enclosure. After nine days the internees were transferred to Camp Lordsburg. Camp Livingston, Louisiana, held over 800 persons of Japanese ancestry (Weglyn 1976). Four hundred of these were from the West Coast, 354 were from Hawaii, and 160 were from Panama and Costa Rica.

The distribution of a small quantity of Japanese relief goods (green tea, soya, and bean mash) destined for Camp Florence, Arizona, and Fort Meade, Maryland, from the exchange ship M.S. Gripsholm in June 1942 and December 1943 indicates there were Japanese nationals being held at both camps (Weglyn 1976). No further information about these two locations was obtained.