---
MENU
---
---

Isolation Centers
---
---
---

Confinement and Ethnicity:

An Overview of World War II
Japanese American Relocation Sites

by J. Burton, M. Farrell, F. Lord, and R. Lord

---

Chapter 14 (continued)
Citizen Isolation Centers
Leupp Isolation Center, Arizona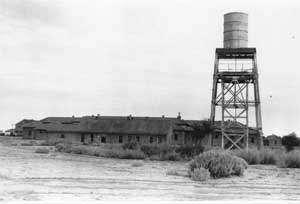 Figure 14.10. Leupp Boarding School.
(Museum of Northern Arizona Photo Archives)

The Leupp Isolation Center, in northeastern Arizona about 30 miles northwest of Winslow, was located at an abandoned Indian boarding school on the Navajo Indian Reservation. Historical photographs show the boarding school, built in the 1920s, with substantial red sandstone buildings which housed 500 Navajo children (Figure 14.10; Drinnon 1987). The school was closed in early 1942 apparently due to its location in the flood plain of the Little Colorado River (Negri 1985). Today the area, now called "Old Leupp," has just a few residences and a presbyterian church. The current town of Leupp is about 2 miles northwest.

Catherine "Tink" Borum, now of Winslow, Arizona, provided information about the Leupp community that helped confirm the site's location. Her parents ran the trading post in Old Leupp, and they lived on the second floor of that building (Figure 14.11). She was nine years old on April 15, 1943, the day the first soldiers came to Leupp. The military consisted of one captain, two second lieutenants and 150 troops. The trading post continued to operate during this time, selling to soldiers as well as to Indians.

In the 1940s the main road from U.S. Route 66 entered (Old) Leupp from the south, ran through Leupp, and went on to the Sunrise trading post near the current town of Leupp. The raised road bed south of Leupp is now part of a protective levee system (Figure 14.12), but the concrete bridge abutments at the Little Colorado River are still in place.

The only building left at the boarding school is the superintendent's house (Figure 14.13). Other remains there include sidewalks, foundations, and a few manholes (Figures 14.14-14.16). No remains of the sentry building, guard towers, or barbed wire fence built by the WRA are present. According to Ms. Borum, the military leveled all the buildings with bulldozers when they abandoned the site. Debris from the destruction and removal of buildings was perhaps used to build new levees, or reinforce existing ones.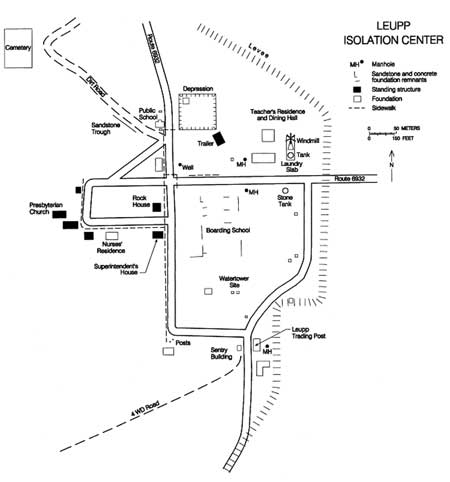 Figure 14.17. Leupp Isolation Center.
(click image for larger size (~48K) )
Vegetation is taking over much of the former boarding school, but in the central portion of the site, where the majority of the buildings would have been, there are scattered remnants of concrete and sandstone foundations (Figures 14.17 and 14.18). To the northeast there are three foundations identified by Ms. Borum as the teacher's residence, dining hall, and laundry (Figure 14.19). The former trading post, in use as recently as 1972, has been destroyed by vandals. Remains there include concrete, sandstone, bricks, and mortar (Figure 14.20).