---
MENU
---
---

Topaz
---
---
---

Confinement and Ethnicity:

An Overview of World War II
Japanese American Relocation Sites

by J. Burton, M. Farrell, F. Lord, and R. Lord

---

Chapter 12 (continued)
Topaz Relocation Center

Figure 12.6. Irrigation ditch constructed by evacuees.
(Ray T. Woodhull photograph, Bancroft Library, University of California, Berkeley)

Figure 12.7. Corral at the relocation center hog farm.
(Tom Parker photograph, Bancroft Library, University of California, Berkeley)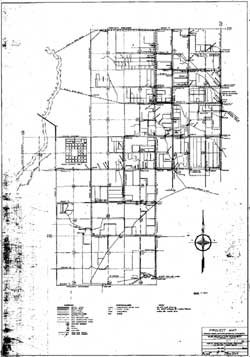 Figure 12.8. Irrigation ditches at the Topaz Relocation Center.
(National Archives)
(click image for larger size (~100K) )

Much of the 19,800-acre relocation center area was devoted to raising food for the center (Figures 12.6-12.8). Beyond the central fenced area were agricultural fields, irrigation ditches, a farm nursery, a chicken farm, a turkey farm, a cattle ranch, a hog farm, a farm equipment storage yard, and a farm workers kitchen, as well as a sanitary landfill and sewage treatment system.

Even further afield, the CCC camp at Antelope Springs, 90 miles west of Topaz, was converted for use as a recreation site. Remains at the Antelope Springs camp are described in Chapter 16. The Deer Creek and Castle Valley mines in central Utah initially supplied coal to the relocation center. Within a short time, however, a group of Japanese American miners was sent from Topaz to operate the Dog Valley Mine south of Emery. Buildings from the Willow Springs CCC camp were moved to the mine to serve as housing for the miners (Geary 1997).

The administration came up with an elaborate address scheme for the evacuees, apparently to give the outside world the impression that Topaz was a normal city. All roads were given names: east-west roads were named after gem stones and north-south streets were named after plants. Each block was then designated by a four digit number (1100-6700) to which the barracks and apartment number was added, which was then appended to the adjacent street. So mail to Apartment A, Barracks 11, Block 39 would instead be addressed to 6411-A Juniper Street, Topaz, Utah.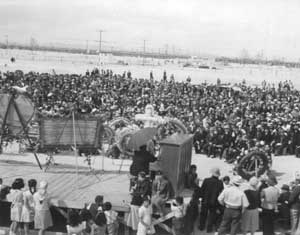 Figure 12.9. James Wakasa funeral.
(Russell A. Bankson photograph, Bancroft Library, University of California, Berkeley)

However, Topaz was far from being a normal city. On Sunday, April 11, 1943, 63-year-old James Hatsuaki Wakasa was fatally shot in the chest by a military guard (Figure 12.9). Wakasa was near the perimeter fence about 300 feet from a watch tower and was either distracted or unable to hear or understand the guard's warnings. Guards had fired warning shots at others on eight previous occasions. To avoid further incidents, the administration restricted the military in their use of weapons and access to the relocation center. Nevertheless, a guard fired at a couple strolling too close to the fence, a little more than a month later (Taylor 1993:141).

Continued