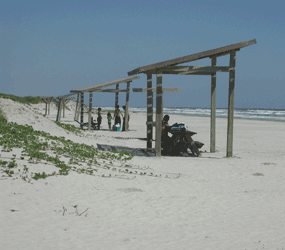 During the twentieth century the road into Padre Island's future forked. On the one hand, the northern and southern tips of the island advanced from an agricultural society into the modern, technological era along with the rest of the United States. On the other hand, the central section of the island became a National Park with the intent of returning the island back to its original state before the advent of European culture (while permitting recreational use of the island as much as possible).

Padre Island began the twentieth century as a ranching community with a few small businesses operating alongside the ranches. The first two decades saw the advent of two industries that would set the course for the future: tourism and natural gas.
After the development of the automobile, various entrepeneurs saw that the island, with its sunny weather and warm winters, had the potential for attracting great numbers of vacationers and they began to dream of resort areas similar to Miami beach. Hindering their progress, however, was the fact that the island was difficult to access because of the lack of a bridge or highway going directly to the island. Visitors either had to take a boat across the Laguna Madre or take a long drive through Port Aransas and down Mustang Island. This was remedied or the northern end of Padre Island in the second half of the century with the building of what was then known as the Padre Island Causeway, which is now called the JFK causeway.
The island remained peaceful throughout the twentieth century. However, the Second World War brought a military presence. The Navy established bombing and aerial gunnery ranges on both the northern and southern parts of the island. In addition, the Coast Guard began patrolling the shoreline searching for German saboteurs and spies that might be smuggled in by submarines.
At about the same time dreams of a tourism industry began to evolve in the 1920s and 1930s, oil and natural gas companies became aware of great, untapped natural gas deposits under the island. Drilling for oil and natural gas began in the early fifties and continues today.
The development of the National Seashore in the 1960s, as a product of the tourism boom, insured that most of the island would remain natural. This is because the mission of National Park Service, as stated in its founding legislation (called the Organic Act), is "...to conserve the scenery and the natural and historic objects and the wildlife therein and to provide for the enjoyment of the same in such manner and by such means as will leave them unimpaired for the enjoyment of future generations."