Oil and Natural Gas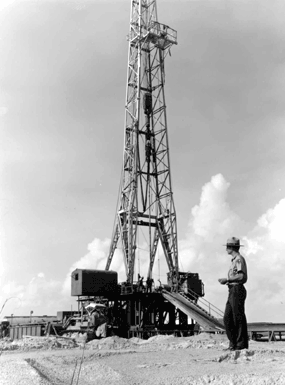 Padre Island National Seashore is one of 13 national park units in which the NPS regulates non-federal oil and gas development in order to protect park resources and values. Section 4(a) of Padre Island National Seashore's Enabling Legislation specifically states that the "Secretary shall permit a reservation to the grantor of all or any of the oil and gas minerals in such land and waters with the right of occupancy and use under such regulations as may be prescribed by the Secretary."
Drilling for natural gas has been taking place on Padre Island since well before the founding legislation for the National Seashore was drafted. Texas began taking interest in Padre Island as a source of minerals in the late 1930s and in 1940 sent a surveyor named J.S. Boyle to survey the island.
The first well was drilled by the Sun Oil Co. at Yarborough Pass in 1951, but it turned out to be a "dry hole" (i.e. non-productive). During 1952-1953 three more wells were drilled, of which two produced oil and one gas, each for a period of a month or less. By 1957, when Senator Yarborough initiated the National Seashore's founding legislation, Sun Oil had drilled another six wells, all of which were dry holes. Between 1957 and September 28, 1962, when President Kennedy signed the founding legislation, Sun Oil had drilled three core tests and another dry hole. According to the information currently available, during these years Sun Oil was the only company operating on the island. However, there were a few wells which were plugged during the 1960s and later, which might have been operating in the 1950s, but for which no information on their operations is available.
As of March 1, 2005, there have been 78 oil and gas operations either on Padre Island National Seashore or, prior to the park's opening, on the land that was to become Padre Island National Seashore. These operations include: 62 wells, 7 pipelines, and 9 seismic operations.
Currently, there are three producing gas wells (South Sprint #1, Dunn-Peach #1, and Dunn-Peach #2), two inactive gas wells under an active plan of operations (A-3 and A-4), one water well (A-8), and six pipelines.
For information on the legal basis for drilling and drilling's environmental impact, please follow this link to the oil and natural gas section of our website.
Last updated: December 2, 2018