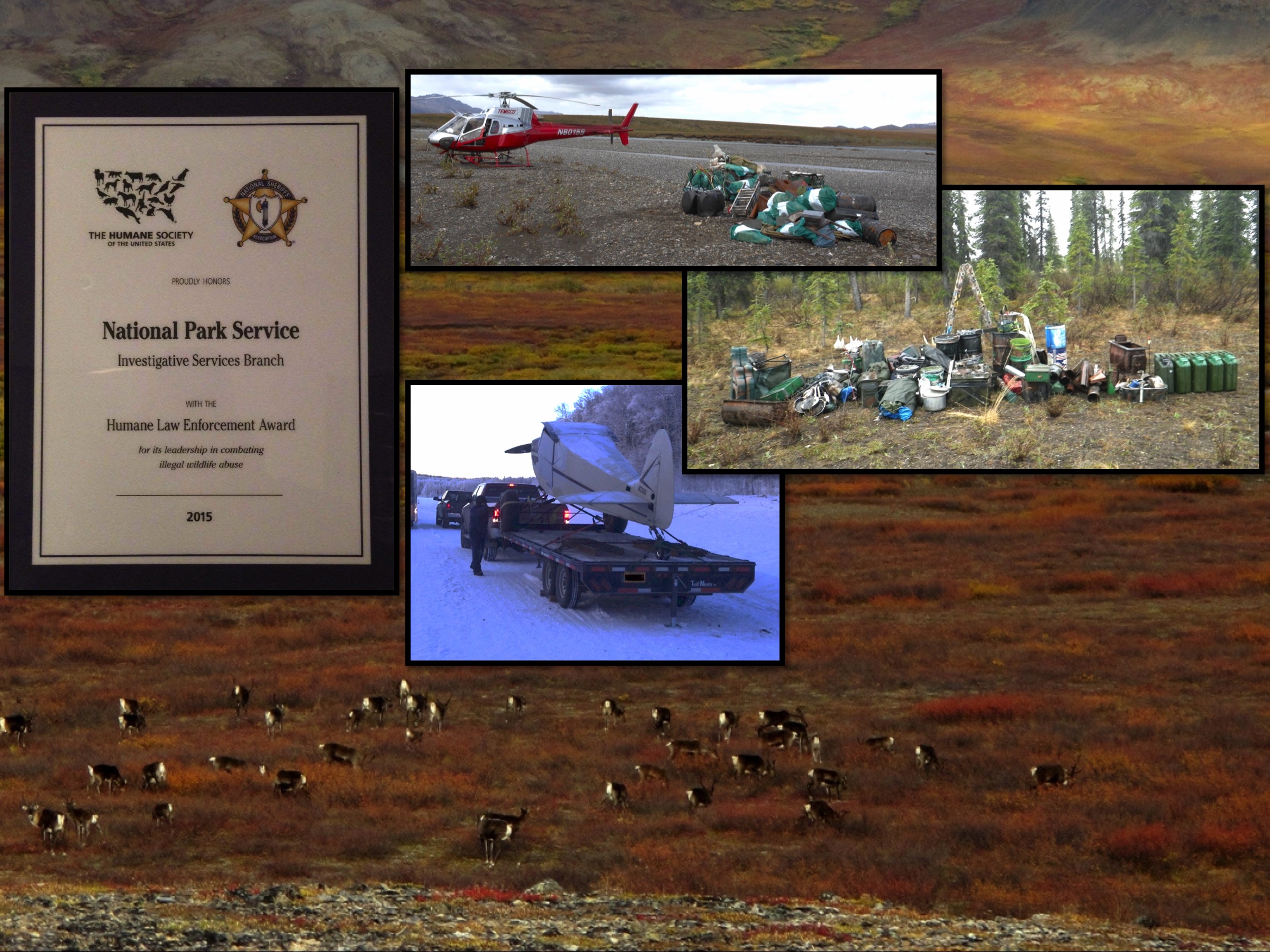 News Release Date: August 3, 2016

Contact: NPS Investigative Services Branch, (202) 379-4761
NPS Investigative Services Branch honored to be selected for the Humane Law Enforcement Award
The Investigative Services Branch (ISB) was recently presented with the Humane Law Enforcement Award, which recognizes authorities across the nation that take an exemplary stand against animal cruelty. ISB, the US Fish and Wildlife Service (USFWS), and the US Attorney's Office were selected for their leadership in combating illegal wildlife taking throughout a three-year investigation that exposed an illegal hunting outfitter ring operating within Noatak National Preserve. 
"The Humane Society of the United States celebrates the work of law enforcement to crack down on the illegal wildlife trade, poaching, and other forms of cruelty and abuse," Wayne Pacelle, HSUS CEO and president, described the award.
The complex collaboration between ISB and USFWS brought about the conviction of Clark Dixon, host of the cable hunting show "
The Syndicate
," and nine others for violating the Lacey Act (the first federal law protecting wildlife). The group illegally killed more than 20 animals including brown bear, moose, caribou, and Dall sheep. The US Attorney for the District of Alaska was tremendously supportive throughout the investigative and prosecution phases, resulting in all defendants pleading guilty. In addition to losing hunting privileges and forfeiting an airplane and trophy animals, the poachers must pay over $250,000 in fines and restitution. Dixon was ordered to serve 18 months in prison and pay a fiine of $75,000. Investigators also seized and removed more than 3,500 pounds of equipment cached and used by the group in their illegal activity on the preserve. 
The Lacey Act covers all fish and wildlife and their parts or products, plants protected by the Convention of International Trade in Endangered Species of Wild Fauna and Flora (CITES), and those protected by state law. Commercial guiding and outfitting are considered to be a sale under the provisions of the Act. 
The 6.5-million acre Noatak National Preserve is an International Biosphere Reserve and protects the largest undisturbed watershed in North America. The core mission of ISB is the immediate and long-term protection of park resources, visitors, assets, employees and residents. We accomplish this through detection, investigation, apprehension, and successful prosecution of persons who violate laws of the United States of America while within, or while affecting, the National Park System. 
ISB: the Investigative Services Branch of the National Park Service