Discovery Cave Tour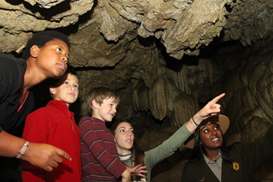 ** Cave tours will begin April 23,2022. Due to Covid-19, tours might be limited. All consideration is being made for the safety of our staff and visitors. Contact our Illinois Valley Visitor Center at 541-592-5125 for more information. **

Twist, stoop, explore and discover the dark depths of the Oregon Caves with a ranger guide. You will explore a labyrinth of marble passageways, pass glistening flowstones, and visit a huge room 220 feet beneath the surface. The guides will lead you on a caving experience and explain the interesting geology around you. This adventure lasts 90-minutes. Tours are limited to 15 people. Go to Plan Your Visit for tour seasons, hours, and fees. Spring Break and Summer time tour wait times can be long.
First come first served tickets are available at the park daily. All members of your party must be present to purchase tickets. Long wait times and occaisional sellouts occur during spring break and the summer. Reservations are recommended but not required.

Children: For their safety, children must be at least 42 inches (107 cm) tall to take a tour. The cave route is not safe for small children. Children cannot be carried through the cave.

Physical Considerations:This tour is physically demanding. It requires the ability to walk and stoop through narrow, twisting passages, including an 88-foot (27m) passageway with ceilings as low as 45 inches (114 cm), and the ability to ascend and descend over 500 steps, many of them steep, uneven and/or without handrails.

To ensure the safety of the entire group, all visitors are asked to demonstrate the physical ability to navigate the cave tour route. During the introduction, the guide will ask visitors to crouch down to approximately 45 inches (114 cm) and take several steps. If a visitor is unable to do so, they will be invited to visit Watson's Grotto, the first room of the cave, but may need to exit at that point. (Watson's Grotto is 75 feet [23 m] from the entrance and requires stooping as low as 51 inches [130 cm]).

This tour is moderately strenuous and not recommended if you have a heart condition, breathing issues, poor balance, trouble walking, issues climbing stairs, or have back, knee, hip, ankle, or foot problems.

To protect the resource, visitors are asked not to touch the cave walls or features along the tour route. An exhibit in the visitor center does provide an opportunity to tacitly experience the cave.

What to Bring: Warm clothing; the cave is 44 degrees Fahrenheit (7 degrees Celsius).
Good walking shoes – do not wear open-toed shoes, flip-flops, or sandals.

What not to Bring: No flashlights, backpacks, purses, walking sticks, food, gum, candy, tabacco products or tripods.

Protect our Bats: Do not wear or bring clothes, shoes or other items used in a cave, mine, or other bat habitat. Spores carried on personal items spread white-nose syndrome, a deadly disease that kills bats.
Last updated: August 6, 2022