Wildlife Viewing

Many wild animals dwell within Olympic National Park. Despite their abundance, viewing wildlife is often a matter of luck and diligence. Review the information below for tips to increase your chances of seeing wildlife during your visit!
Viewing Tips:

Watch at dawn and dusk: Most wildlife activity occurs around dawn and dusk, when animals feed. Plan excursions during these parts of the day to increase your chances of seeing wildlife.
Bring the right tools: Field guides, binoculars, a zoom lens, and comfy shoes can improve you wildlife viewing experience.
Know their habits and habitats:

Habitat preferences and seasonal cycles can determine where and when you're most likely to observe an animal. You probably won't see a marmot on the coast or a river otter at Hurricane Ridge.

Migratory animals, such as gray whales, are most commonly seen in the spring and fall and animals that hibernate, such as marmots, are usually only seen in the summer.

Learning about wildlife habits and habitats before you visit will increase your chances of an encounter.

Ask a ranger:

Stop by the nearest Visitor Center for current information on the best wildlife viewing areas.
Be a Safe and Responsible Wildlife Observer:

Never feed wildlife: It is illegal to feed, approach or harass wildlife, including birds and small mammals, such as chipmunks.
Keep a safe distance: Stay at least 150 ft (50 meters) from wildlife. If you cause an animal to move, you are too close. Use binoculars or a telephoto lenses to stay safe and avoid disturbing them.
Don't view and drive: View wildlife from roadside pullouts to avoid vehicle accidents and congestion.
Visit our wildlife safety page for more safety rules and regulations.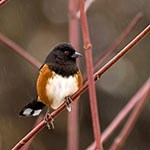 Birds
Where: Many bird species share Olympic's skies. Bald eagles, northern pygmy owls, black oystercatchers and sooty grouse are among the 300 species of birds found in the diverse habitats of the park. Visit our birdwatching page for more details and information on specific species.
Safety: Help us protect our birds by not feeding them and watching them from a distance. Feeding birds can result in unnatural behavior, dependence on humans for food, and poor nutrition.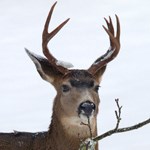 Deer
Where: A common sight, black-tailed deer can be encountered in nearly all areas of the park. Deer often roam in the mountainous and forested locations within the park and tend to be more active during the morning and evening.
Safety: Help the park keep our deer population "wild" and do not feed or approach deer. Always view these animals of a distance of 150 ft or more. Use extra caution while driving, as deer commonly cross the roadways.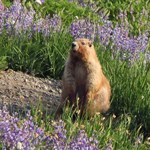 Olympic Marmots
Where: Spot these charismatic animals at Olympic's higher elevations. Trails near Hurricane Ridge and alpine trails make prime destinations for marmot sightings during the summer.
Safety: Help us protect the marmots by viewing them from a distance and not feeding them.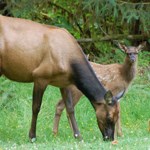 Roosevelt Elk
Where: Most elk sighting occur in Olympic's lower valleys and rainforests. Elk encounters occur throughout the day, but are most common during dusk or dawn.
Safety: With their sharp antlers and hooves, an elk encounter can be potentially dangerous. Use caution when viewing elk, especially during the spring calving season and fall rut or breeding season. Do not approach elk and maintain a distance of at least 150 ft. If you encounter an elk on a trail, make noise, avoid eye contact, and move away slowly.
Salmon
Where: Olympic's rivers are home to all five species of Pacific salmon, as well as anadromous steelhead and bull trout. Although there are salmon migrations throughout the year, fall is the best time to view the salmon's dramatic upstream journey. Most rivers in the park host a fall salmon run, but the Salmon Cascades Overlook in the Sol Duc Valley provides one of the best views from late September to Early October. Visit our anadromous fish page for more details about salmon.
Safety: Check the fishing regulations and river conditions before you go if you plan to fish or boat.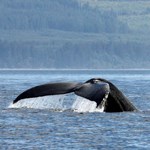 Whales
Where: Part of the whale trail, the Olympic coast offers many opportunities to view whales during their migration seasons of April - May and October - November. Prime whale watching sights include Kalaloch, Rialto, and Shi Shi Beaches.
Safety: Always check a tide chart before heading out to view whales, especially if you plan to hike along the beach. Plan ahead to ensure that you are not caught unaware by high tides. Tide charts can be acquired at open ranger stations during the summer season. Report stranded whales and other marine mammals to the nearest ranger station.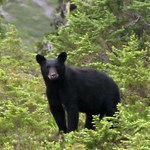 Black Bears
Where: Black Bears are seldom sighted in areas with high human presence, such as roads and Visitor Centers. Most sightings, while rare, occur along backcountry trails.
Safety: Never approach a bear. Maintain a distance of at least 150 ft. Backcountry campers are required to carry and store all food and scented items in a bear canister. These can be acquired at our Wilderness Information Centers. For further details, visit our wilderness safety and wilderness trip planner pages.
Last updated: November 12, 2023