Olympic National Park Fishing Regulations

Fishing in Olympic National Park
Olympic National Park protects over 75 miles of Pacific Coast, 600 lakes, and 4,000 miles of rivers and streams that support some of the most extensive runs of wild salmon, trout, and char remaining in the Pacific Northwest.
Through the management of fish and aquatic environments, the park works to preserve and restore native fishes and their habitats and provide recreational fishing opportunities for the enjoyment of park visitors. Fisheries biologists work with the State of Washington and eight treaty tribes each year to establish harvest and gear regulations.
Matheny Creek and Sams River, Catch Record Card Code 394
June 1-Sept 30, 2017: Artificial lure with a barbless, single point hook; catch and release except 2 adipose clipped hatchery steelhead may be retained.
CLOSED October 1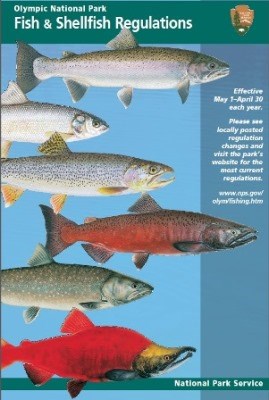 General Fishing Information
All waters in Olympic National Park are closed to the removal of fish and shellfish (including freshwater crayfish and freshwater mussels) except as described in the

Fishing and Shellfish Regulations.
All waters listed in the

Fishing and Shellfish Regulations

are open to fishing from one hour before official sunrise to one hour after official sunset.
Fishing for bull trout and Dolly Varden is prohibited in all park waters and these species must be released if incidentally captured.
All wild fish species must be released unless specifically allowed in Freshwater Seasons and Limits.
A Washington State Recreational Fishing License is
NOT REQUIRED
to fish in Olympic National Park
EXCEPT
when fishing in the Pacific Ocean from shore. No license is required to harvest surf smelt.
A Washington State catch record card is REQUIRED to fish for salmon or steelhead and they must be accounted for as if caught in state waters.
A Washington State Shellfish/Seaweed license is REQUIRED for harvest of shellfish from the Pacific Coastal Area. Harvest of seaweed, kelp, and unclassified species is prohibited (see Marine Fish and Shellfish Seasons and Limits).

Last updated: January 17, 2018