Olympic National Park Fishing Regulations

Fishing in Olympic National Park
Olympic National Park protects over 75 miles of Pacific Coast, 600 lakes, and 4,000 miles of rivers and streams that support some of the most extensive runs of wild salmon, trout, and char remaining in the Pacific Northwest.
Through the management of fish and aquatic environments, the park works to preserve and restore native fishes and their habitats and provide recreational fishing opportunities for the enjoyment of park visitors. Fisheries biologists work with the State of Washington and eight treaty tribes each year to establish harvest and gear regulations.
Before you go
fishing in Olympic National Park review the
current fishing and shellfish regulations
and check bulletin boards for locally posted regulation changes.
March 26, 2020 Emergency Regulation Change - Temporary Recreational Fishing Closure
:
Olympic National Park, in coordination with Washington Department of Fish and Wildlife (WDFW), is temporarily closing recreational fishing parkwide. This closure is in response to the Stay Home, Stay Safe Proclamation 20-25 and Proclamation 20-05 issued by the Governor of the State of Washington to slow the spread of the novel coronavirus (COVID-19). The closure is effective immediately and will last until further notice.
Emergency Regulation Change:
Beginning November 16, 2019, reduce the daily limit of hatchery salmon from two to one adult in the Queets and Salmon River systems within Olympic National Park to protect wild coho run.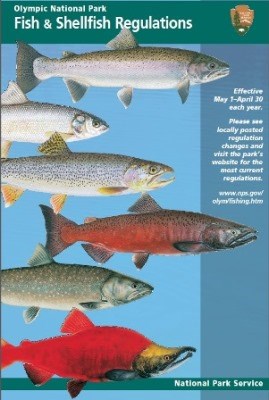 General Fishing Information
All waters in Olympic National Park are closed to the removal of fish and shellfish (including freshwater crayfish and freshwater mussels) except as described in the

Fishing and Shellfish Regulations.
All waters listed in the

Fishing and Shellfish Regulations

are open to fishing from one hour before official sunrise to one hour after official sunset.
Fishing for bull trout and Dolly Varden is prohibited in all park waters and these species must be released if incidentally captured.
All wild fish species must be released unless specifically allowed in Freshwater Seasons and Limits.
A Washington State Recreational Fishing License is

NOT REQUIRED

to fish in Olympic National Park

EXCEPT

when fishing in the Pacific Ocean from shore. No license is required to harvest surf smelt.

A Washington State catch record card is REQUIRED for adults and children if fishing for salmon or steelhead. A catch record card specific to waters in Olympic National Park is available from Washington State Department of Fish & Wildlife license dealers at no cost. Salmon or steelhead that are caught and released do not need to be recorded. The catch record card requires a location code for each retained fish.
A Washington State Shellfish/Seaweed license is REQUIRED for harvest of shellfish from the Pacific Coastal Area. Harvest of seaweed, kelp, and unclassified species is prohibited (see Marine Fish and Shellfish Seasons and Limits).

Last updated: March 26, 2020