Birdwatching in Olympic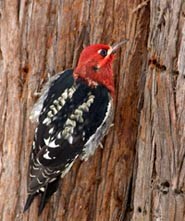 Over 250 species of birds use the extensive and diverse habitats of Olympic National Park and the adjoining coastal waters. In the mountain meadows, you may see blue grouse, woodpeckers, gray jays, and many more. Along the coast, bald eagles, rhinoceros auklets, western gulls, and a number of other coastal birds can be spotted feeding, or nesting in offshore trees.
Some of the particularly prevalent birds include the American crow, common raven, varied thrush, winter wren, Steller's jay, gray jay, ruffed grouse, blue grouse, belted kingfisher, and a variety of warblers, woodpeckers, kinglets, and sparrows.
Check out the photo gallery of birds in Olympic National Park.
Last updated: March 31, 2012