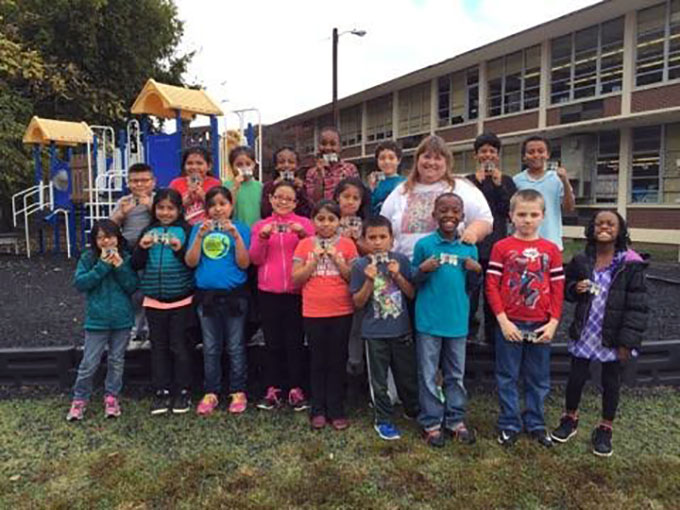 News Release Date:
November 5, 2015
Contact: Veronica Greear, 423-346-6294
Urban fourth graders from Lonsdale Elementary School recently completed their visits to the Obed Wild and Scenic River in late October. "Urban Kids Rock the Obed" was the title of the Ticket to Ride proposal that was awarded to the park this spring. The Obed reached out to a new audience of urban youth, and introduced this wild and scenic park through healthy outdoor recreation and curriculum-based park education programs.
Following the three-touch approach, park rangers visited the Title I School in Knoxville, Tennessee. Once there, they introduced the National Parks, the Obed Wild and Scenic River, and talked about the jobs of park rangers. They also showed the
Obed's award-winning film
. The anticipation of the students climaxed as the rangers discussed the details of their upcoming visit. The idea of hiking in the forest, seeing scenic park vistas, visiting rock shelters, and scaling up rock walls, were all new concepts for these students. 
The field trips to the park created new adventures and a sense of discovery. Students learned about the geology of the Cumberland Plateau, the interdependence of forest life, and heard stories of the past as they sat in the archaeologically significant rock shelters. They climbed to new limits as they experienced recreational opportunities on the Lilly Bluff climbing area. For most of these students, it was their first visit to a national park and will be a memorable one. 
During the post-site visit, all 78 students exchanged vouchers for their "
Every Kid in a Park" pass
and were sworn in as
official Obed Junior Rangers
. Students were able to reflect and discuss their experiences at the park through poetry. This language arts activity allowed creative juices to flow, which resulted in the creation of poems entitled, "Snake" and "Mountains." 
We are most proud of this program because were able to introduce and engage the next generation of urban youth with their national park, and connect them to the park resources through healthy outdoor recreation and curriculum-based educational programs. 
Rachel Carson said it best, "If a child is to keep alive his inborn sense of wonder, he needs the companionship of at least one adult who can share it, rediscovering with him the joy, excitement, and mystery of the world we live in." We are proud that the Obed staff and dedicated volunteers were able to share time of discovery with these amazing kids!