Directions
Directions
For specific directions to each of the twelve national parks in New York Harbor please check their webpages. To get to our offices at Federal Hall National Memorial: The main entrance of Federal Hall is located at 26 Wall Street, near the corner of Wall Street and Nassau Street. The rear entrance, which is wheelchair accessible, is located at 15 Pine Street, near the intersection of Pine Street and Nassau Street. It is highly recommended that all visitors use mass transit when traveling to Federal Hall.
Public Transportation Directions
Through a partnership between the National Parks Conservation Association and the National Parks of New York Harbor, we have developed this
detailed map
that locates the nearest public transportation stations or stops that are within walking distance of our park sites.
GOVERNORS ISLAND NATIONAL MONUMENT

Governors Island is open during the summer season. Ferry service departs from lower Manhattan at the Battery Maritime Building, adjacent to the Staten Island Ferry and from Brooklyn at Pier 6 located at the foot of Atlantic Avenue.
Directions to:
Governors Island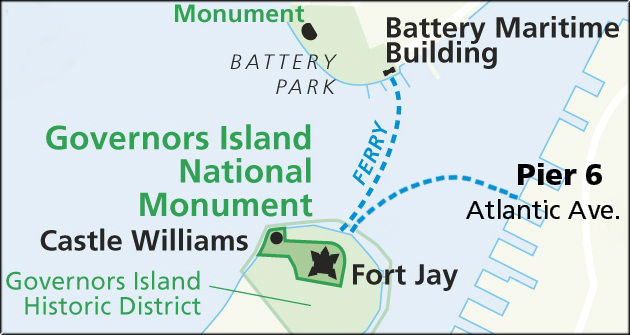 STATUE OF LIBERTY NATIONAL MONUMENT (INCLUDING ELLIS ISLAND)

The Statue of Liberty is located on Liberty Island. The Immigration Museum is located on Ellis Island. These two separate islands are accessible by the same ferry. Directions to the ferry departure points in lower Manhattan and New Jersey are available below.
Directions to:
Statue of Liberty and Ellis Island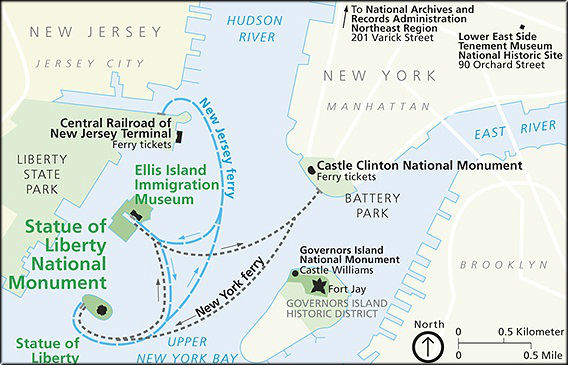 Last updated: May 17, 2021