Plan Your Visit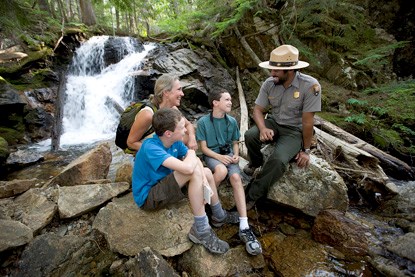 "The North Cascades Are Calling for You!"
Are you hoping to encounter alpine wilderness, hike among dense evergreen forests, or car-camp with the whole family? Whatever your interest, we want to help you plan an enjoyable, safe, and memorable visit to the North Cascades.

Finding Your Way
Before your visit, orient yourself with directions to the park and read about visitor center operating hours and applicable fees and reservations.

Finding Your Place
Discover activities and events and things to do that will take you outside to experience the natural and cultural story of the North Cascades. Learn about the places you can go in the park complex. For backcountry travellers, visit the Wilderness Trip Planner section to find important information about trail conditions, backcountry permits, current weather, and Leave No Trace principles. Use park maps and brochures to guide your stay. Email for hard copy.

Away from the Park
If you want to be inspired at home, browse our photos and multimedia pages or join the conversation on social media. For specific questions, you can also contact a ranger by mail, phone, or e-mail.

We look forward to seeing you. Safe travels until then.
Additional Planning Resources

In North Cascades National Park Service Complex commercial services or other commercial activities are provided by companies holding a Commercial Use Authorization. These services include
natural history field seminars, overnight accommodations and transportation services, and outfitters for canoeing, packing, climbing, and hiking.


Last updated: January 24, 2018