Touch the Wilderness Gently
Wilderness travelers are the stewards of these last great wild places. Ultimately, it is not regulations or land designations that protect the wilderness, but rather the willingness of each of us to make good choices and travel with care. The nationwide Leave No Trace program is designed to teach the skills needed to touch the wilderness gently. Please help by learning and practicing the following principles and backcountry regulations. To learn more about Leave No Trace, visit the Leave No Trace Center for Outdoor Ethics webpage.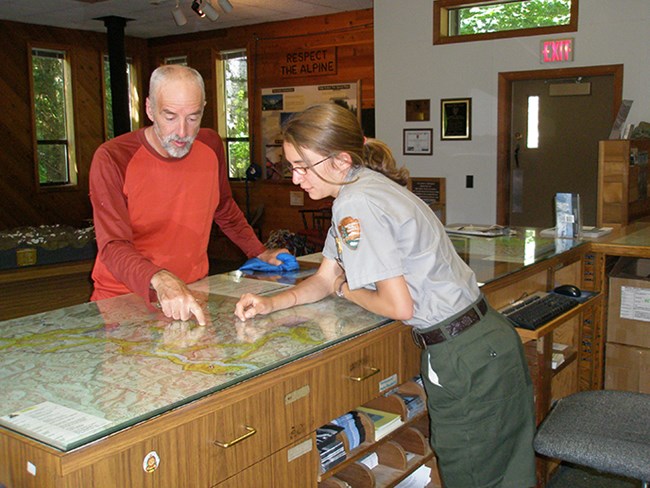 Plan Ahead and Prepare
Be informed about the area, including local weather, trail conditions, and regulations. Choose destinations that your group is physically in condition to handle, and know your group's limits. Visiting in small groups (four to six) gives you more flexibility and has less impact. Learn the necessary skills and know how to use your gear before you head into the wilderness, especially if you will be crossing steep snow, traveling cross-country, or mountaineering.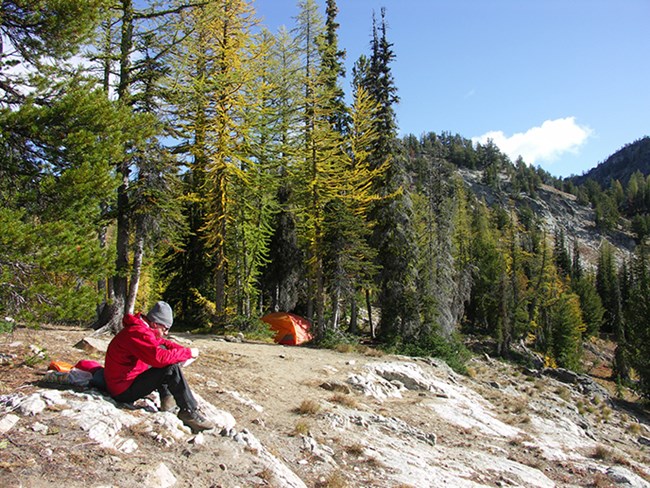 Travel and Camp on Durable Surfaces
Along trail corridors: Camp only in designated camps (marked by name posts) along trails, in the location specified on your backcountry permit. Pitch your tent on established bare sites, not the vegetation. Protect the native vegetation and reduce erosion by staying on the trail, even if it's muddy. Avoid making parallel trails, cutting switchbacks or widening trails. Some subalpine plants, such as the low-growing mountain heather, are easily damaged when stepped or camped on. Restoration is costly and often fails-it is better to protect the land in the first place.
Traveling Cross-country: Cross-country camping is allowed for those who are up to the challenge of traveling off-trail. Seek a route over rock or snow, or spread your group out to avoid creating a trail through vegetation. Let others discover wilderness on their own-never mark a new route with blazes or cairns, or litter the backcountry with flagging tape. Select a camp that is at least a mile from established trail camps and one-half mile from the trail. Choose a campsite away from water and on a durable surface such as forest duff, snow, or rock slab. Avoid subalpine vegetation, which is easily damaged-all subalpine meadows are closed to camping. Leave your site natural, without wind-blocks, trenches, or alterations. Camp in the zone indicated on your permit.
Other tips include: Sandals or camp shoes are a welcome change for your feet at day's end, and cause less impact to soils and vegetation around your camp. They're useful for stream crossings as well. A collapsible water carrier reduces the number of trips and trampling to a water source and allows you to wash well away from lakes and streams.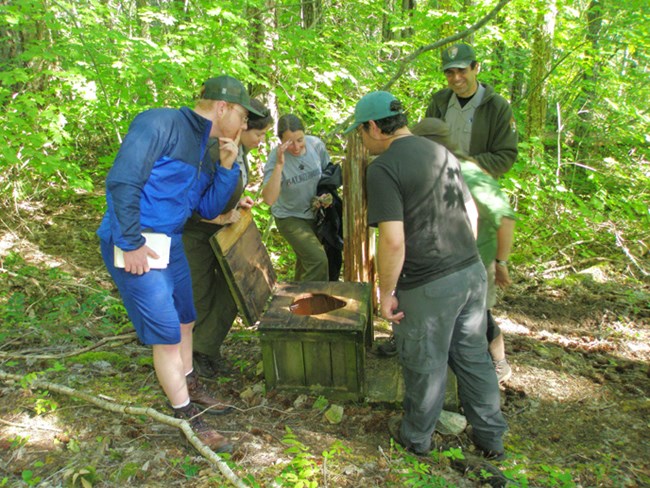 Dispose of Waste Properly
Use toilets where provided. Pit or composting toilets are located at most designated campsites. If there is no toilet, walk at least 200 feet (63 m) from camp or water, and dig a small "cat hole" about six to eight inches (15 to 20 cm) deep. Look for organic soil-rocky mineral soil does not break down waste as efficiently. Pack out toilet paper. Feminine products should never be buried; they are slow to decompose and animals may dig them up. Double bag and pack them out. Urine is salty and thus very attractive to animals, especially deer. Urinate well away from your camp, on bare ground or rock, so that animals do not paw up the site.
When traveling high in the alpine or on snow or glaciers, there is often no organic soil in which to dig a cathole. Do not bury waste in the snow, as this pollutes the water and the route. Pack out human waste from these fragile areas using a blue bag or other human waste pack-out system. Call or stop by the Wilderness Information Center for more information.
If you wash, carry water at least 200 feet (61 m) from streams or lakes and avoid the use of soap (use sand or a pot scraper to scour your dishes instead). Scatter strained dishwater and disperse toothpaste on bare ground well away from camp or water sources. Check your campsite before leaving-all trash and leftovers must be packed out. Never bury or burn food or garbage, as the smell attracts animals!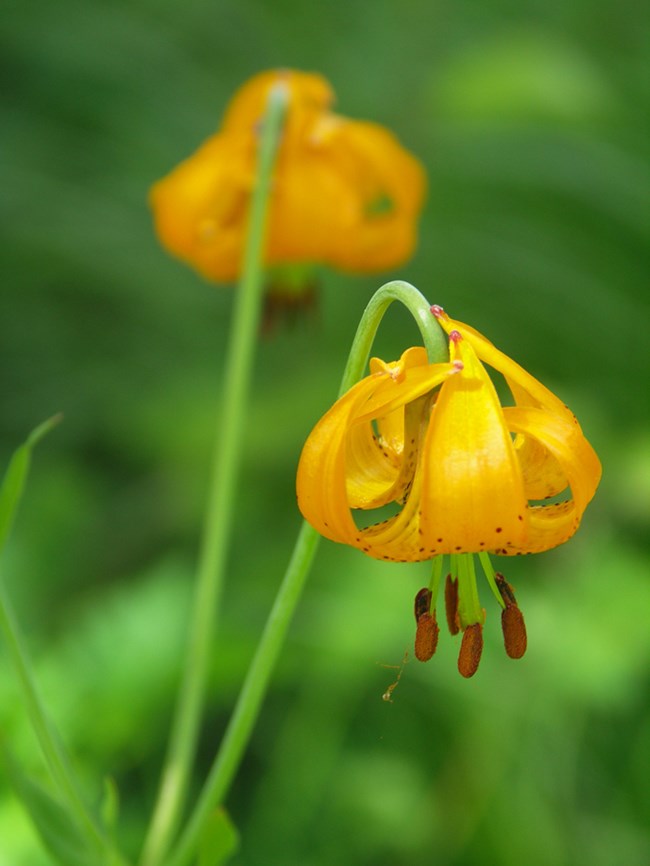 Leave What You Find
Treat our natural and cultural heritage with respect. Leave plants, rocks and artifacts as you find them, so that others may discover and enjoy them. Avoid altering your site: Digging out rocks, moving logs, building windbreaks or trenching all disturb the natural area. Leave the land as you found it. Edible fruits and berries may be gathered for personal consumption (1 liter per day). For more information on personal use and consumption resources and limits visit the Superintendent's Compendium.
Minimize Campfire Impacts
Camp stoves are recommended for all cooking. They are clean, light, efficient and don't scar the land or deplete natural wood sources. Fires are not allowed at some camps, including those in the subalpine, nor in any cross-country areas. Where fires are allowed, build a small, low-impact fire in an existing firepit at an established camp. Burn only small pieces of dead and downed wood that fit entirely within the firepit. Be sure the fire is dead out before leaving. Try these alternatives to an evening fire: bring a candle lantern, or bring a star chart and identify constellations.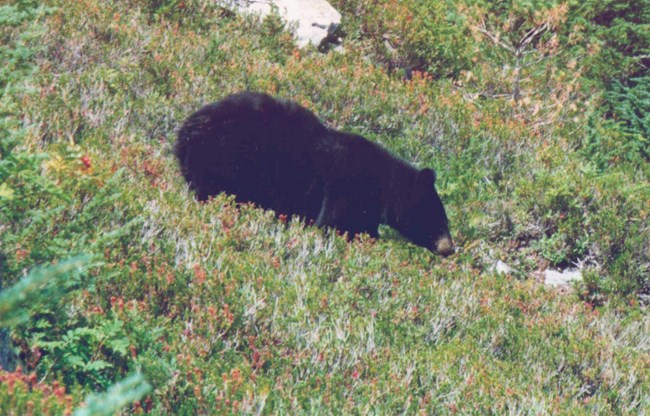 Respect Wildlife
Many animals are attracted by food smells, strong odors, and salt. Seeking food from humans and loss of natural wariness are harmful to wildlife. Many bears (mostly black, but grizzlies are possible) make their home in the North Cascades, and sightings are not uncommon. Deer, mountain goats, marmots and other rodents are attracted to the salt in urine and sweat, and they have chewed or ruined unattended gear, clothing, and boots. Help protect yourself, your gear, and all wildlife by following these requirements and tips:
Store all food and scented items properly! Bears learn quickly and return to areas where they obtain food. This can be unhealthy for the bear and problematic for you or the next visitor. To secure your food from wildlife, you will need a waterproof sack dedicated to smelly food and garbage storage, plus at least 50 feet (15 m) of lightweight cord. Hang the stuff sack with food, cooking gear, garbage, and any other scented items at least 15 feet (4.6 m) from the ground and 5 feet (1.5 m) out from the limb and tree trunk. Since trees with large limbs are not always present, this technique can require time and ingenuity. Avoid trampling fragile vegetation in your search for a tree. Learn more about food storage requirements.
Use an animal resistant food storage canister. This is an excellent alternative to a food hang, or for use in areas where trees are limited. The Wilderness Information Center loans out bear canisters free of charge, as do other ranger stations.
Keep a clean camp and minimize smells. Establish a cooking area well away from your sleeping and food storage areas, and keep tents, clothing and sleeping bags clean and free of food scents. Avoid using strongly scented items, such as cosmetics, cleansers or strong-smelling foods. Seal all leftovers and garbage in plastic bags and secure with your food away from wildlife. Whenever possible, sleep at least 100 yards (91 m) away from food storage and cooking areas. Never bury or burn leftovers or trash, or throw them in the toilets-the smell will linger and attract rodents or bears.
Leave pets at home: they can disrupt native wildlife or get injured or lost. Many hikers wish to enjoy natural surroundings without interference from domestic animals. Pets are prohibited in the National Park-be sure you know where your trail takes you.
Enjoy wildlife from a distance-never approach or feed a bear or any other wild animal. Report all bear and other unusual wildlife sightings or interactions to the nearest ranger station.

Be Considerate of Other Visitors
Respect the wilderness experience of all visitors. Keep your party size small. Be aware of noise levels and let nature's sounds prevail. Bright jackets and gear shrink the wilderness. Where possible, choose earth tones and blend into your surroundings. Wilderness is a respite from modern distractions, so consider leaving your cell phone at home.

Last updated: November 21, 2018