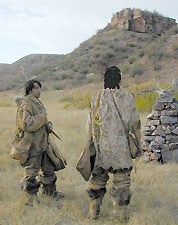 Before the Europeans
The earliest signs of human presence along the Niobrara are found 150 miles upstream of the scenic river. The Hudson-Meng Bison Kill Site contains the disjointed bones of over 600 extinct Bison Antiquus and a number of Alberta type spearpoints from a period 9000 to 9800 years ago. These points are characteristic of the Alberta Culture of the Paleo-Indian period.
During the Archaic period (2000 to 8000 years ago), American Indians used numerous sites in the Niobrara valley where they relied on a variety of small game and plant materials. The people of the Plains Woodland period (1000 to 2000 years ago) added the manufacture and use of pottery to their lifestyle. Through the Plains Village, Central Plains Tradition, and Coalescent Tradition periods (250 to 2500 years ago), these people began building semi-permanent earthlodges and supplementing their gathering with agriculture.