Guided Tours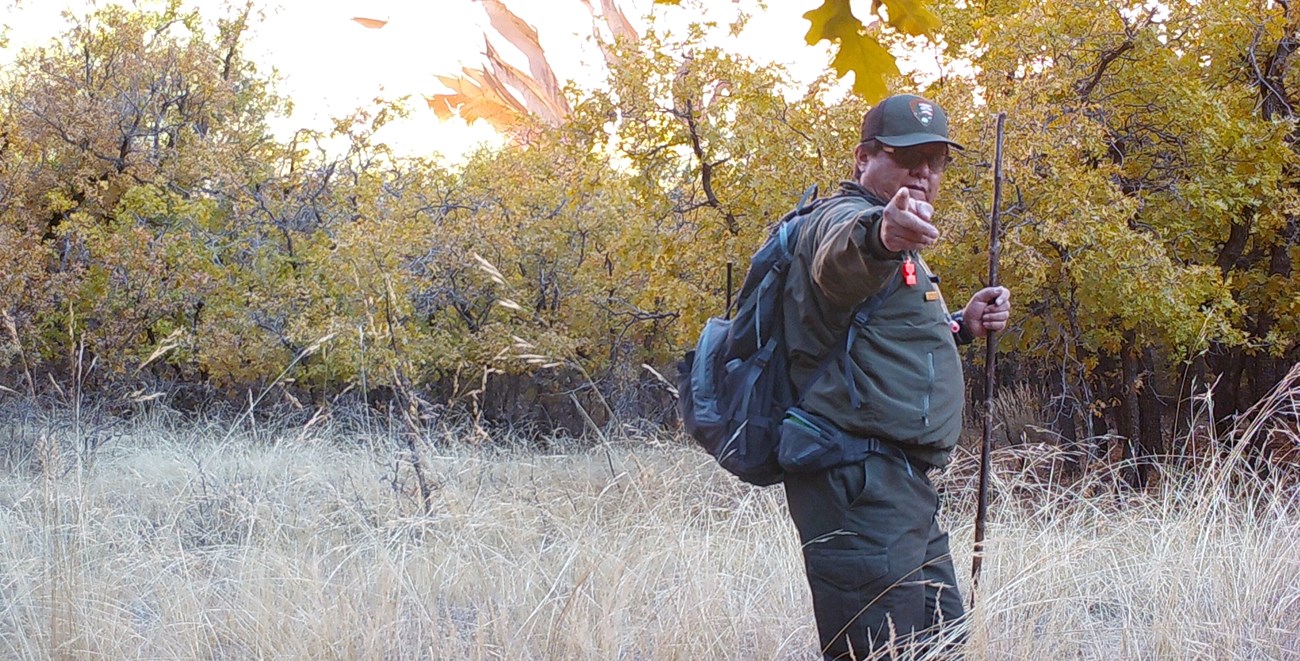 CAUTION
Know your limit! Please do not attempt the guided hikes if you have hip, knee, heart, respiratory problems or had any recent surgery.
FOR YOUR INFORMATION
Remember the Navajo Nation and park observe Daylight Savings Time from March to November during which local time will be the same as Colorado, New Mexico and Utah.
Betatakin: Please note that visitors must be accompanied by NPS staff when visiting Betatakin. The park does not allow unsupervised visits to the site for the safety of visitors and for the protection of irreplaceable archaeological and cultural resources. Visitors may visit Betatakin by joining the scheduled NPS guided hikes.

Keet Seel: NPS staff will offer special overnight trips to Keet Seel (Kawestima) in September 2023. The park does not allow unsupervised visits to the site. Registration and safety orientation are required. More details below.

Inscription House: This site is closed to the public indefinitely due to its remote location, fragility of the site, and at the requests of local residents with concerns of trespassing and vandalism. Please be respectful of this decision.
Hike Smart At Navajo (PDF 472 KB)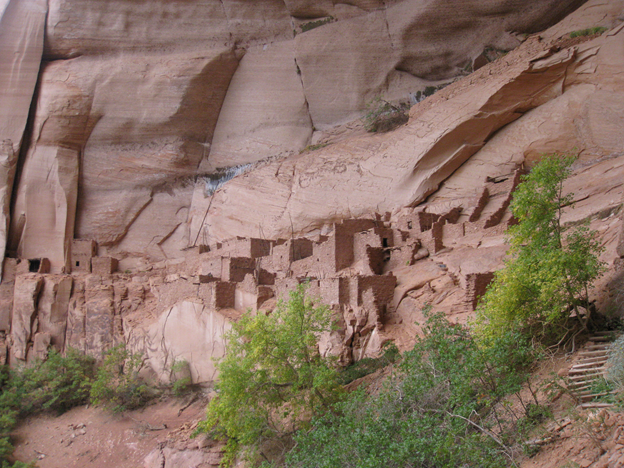 Betatakin Cliff Dwelling Tours
Betatakin is open for Ranger led hikes during the summer from Memorial Day to Labor Day. Hikes are generally offered at 7AM on Fridays and Saturday. A signup sheet will be posted at the Visitor Center on a first come, first serve basis.

Tours may be cancelled due to staff availability and/or hazardous conditions. Contact the park by email before your planned visit to verify that a tour is offered.

The hikes are very strenuous and use steep trails (a 3 mile roundtrip or a 5 mile roundtrip) depending on which tour you join (see below for descriptions). Tours often have a duration of 3-5 hours.

Do not underestimate this hike. People have joined tours who could not hike all the way to the bottom or had difficulty hiking back out of the canyon. Do not put yourself at risk in an area that is remote and located an hour's drive from the nearest medical facility. If you have any concerns, please contact NPS staff.
Due to potential rockfalls, hikers will not enter the site and can view Betatakin from a safe distance.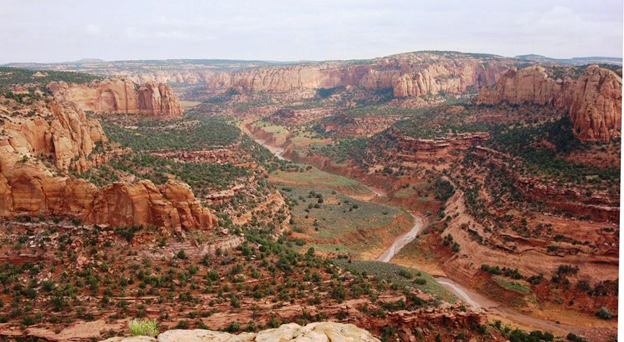 The 7AM hike uses the Tsegi Point Trail which is a strenuous 5-mile round-trip trail. Tours usually take 4 to 5 hours.

The trailhead begins at an elevation of 7,300 ft. The hike has an altitude loss and gain of 700 feet (218 meters). The trail is not well shaded so be prepared for exposure to the heat and sun.

Visitors are required to drive their vehicle to the trailhead.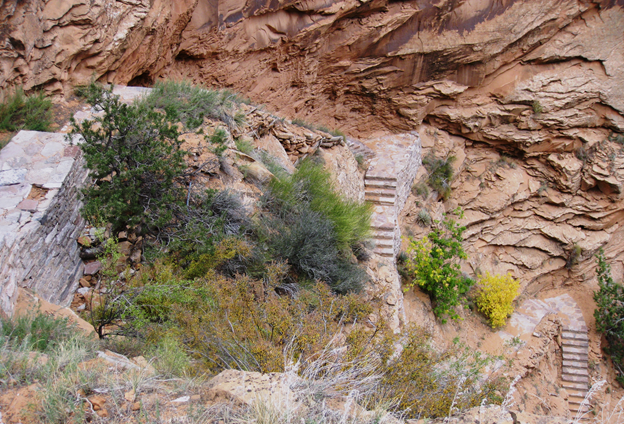 The Aspen Trail may be closed for trail work. Updates available at the Visitor Center.

This trail is a steep 3 mile roundtrip hike and takes 3-4 hours.

The trailhead begins at an elevation of 7,300 feet behind the visitor center. The hike has an altitude loss of 700 feet (218 meters) from the visitor center to the bottom of the canyon.

Please be aware that this hike requires hiking a steep 927 step staircase where hand rails are not present at all times. People who are afraid of heights and are not avid hikers/in good physical health/have issues with joints such as knees are not recommended to join tour. Please supervise all young children joining tour.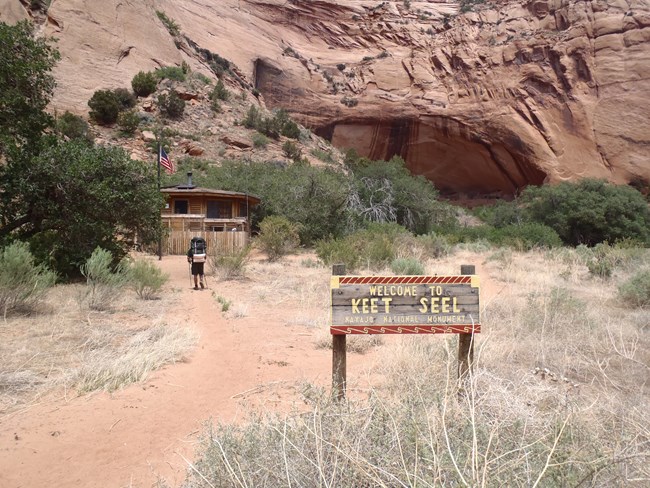 Special guided hikes to Keet Seel will be offered in September 2023.
The hike to Keet Seel is a 17 mile roundtrip backcountry hike and is very strenuous. The hike includes steep canyon switchback trails and sand dunes that are difficult to walk through. Crossing the stream is a common occurrence and can't be avoided. Quicksand may be present during the summer monsoon season (July and August).
This hike is not recommended for children under the age of 10 years old and for people who are not avid hikers, are physically disabled, have joint problems pertaining to knees, and/or any other serious health conditions.
There is an elevation loss/gain of 1000 feet.
One gallon of water per person per day is recommended. Drinking water from the canyon stream is unsafe.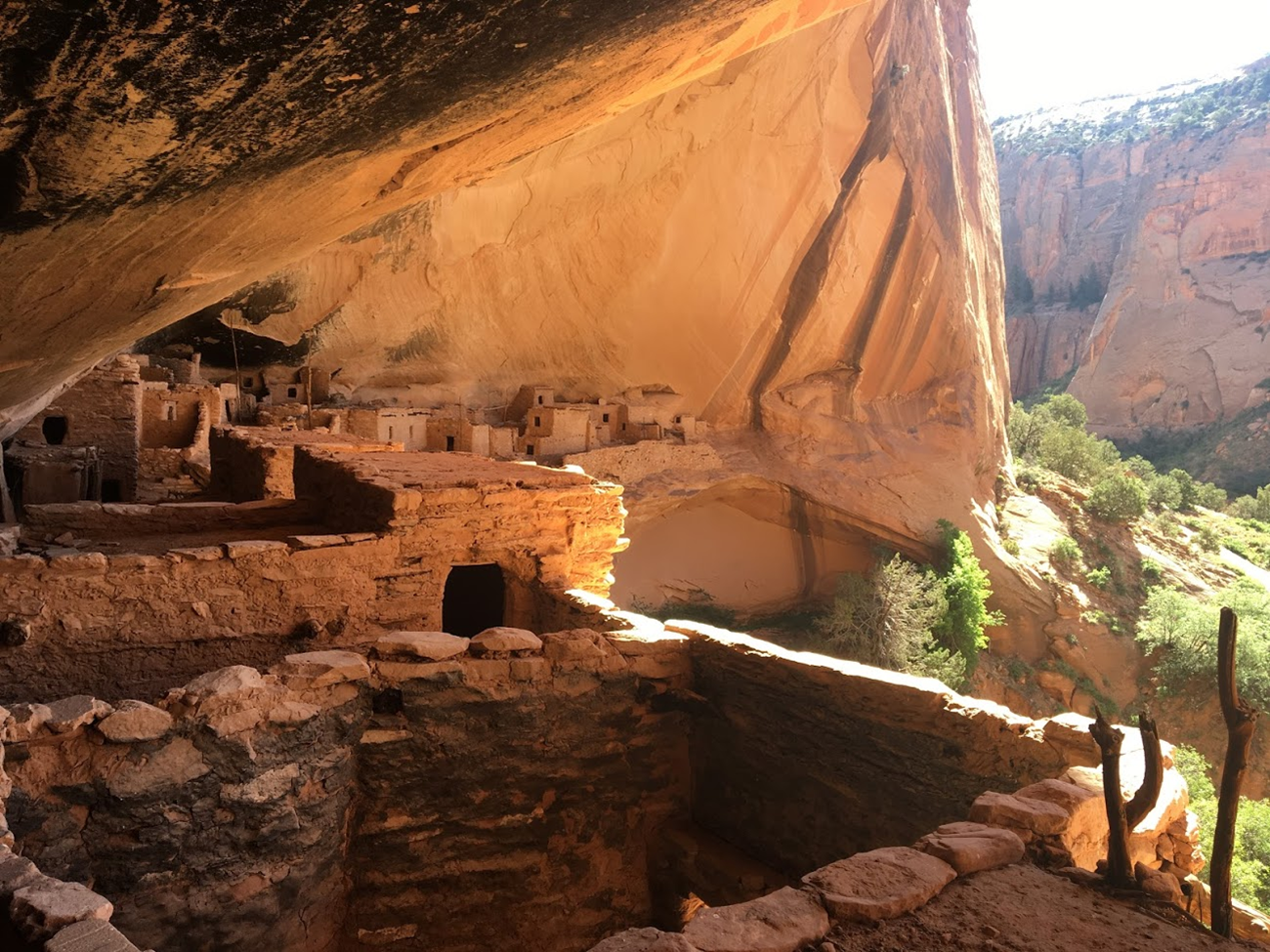 Trail conditons to Keet Seel

Please be prepared for the trail conditions on the hike to Keet Seel:
1,000 feet of elevation change from rim to canyon floor.

Rocky switchback trails and steep sand dunes.

Shallow streams, with multiple water crossings, water is unavoidable on this hike. Areas with quicksand are a possibility.

Deep gullies and eroded washes.

Campground has no facilities, flat brushy surfaces, and ample gamble oak trees.
Special Guided Hikes to Keet Seel
All hikes are subject to cancellation at any time, especially in times of inclement weather or hazardous conditions. All registered participants will be notified in the event of cancellation.

Keet Seel is the largest Ancestral Puebloan structure in the state of Arizona. To see this site, hikers must complete a 17-mile roundtrip hike over the course of two days. This hike will be led by NPS Park Rangers, and will be a group experience. Under no circumstances may any participant leave the group or NPS guide. Each hike will be limited to 20 participants, first come, first served. Participants will receive a confirmation email as well as a follow up phone call a day prior to confirm arrival. Incoming registrations will be notified if the 20 participant limit is reached.

Registered hikers will be required to attend a safety orientation. Details of the hiking schedule are available upon registration.

As part of this backcountry overnight hike, the following rules have been established:
Hikers must bring all needed food and water for the backcountry camp, at least 1 gallon of water per day is highly recommended. The stream water is unsafe for human consumption, even when filtered.

All trash including food items and peels must be packed out.

All solid human waste (excrement) must be packed out as restroom facilities are unavailable. Waste Alleviating Gel (WAG) bags will be utilized.

Camp stoves are allowed, open campfires are not allowed.
Required Gear Includes:
All food and water necessary for the hike

Pack, tent, sleeping bag and sleeping gear

Well fitted and broken in hiking boots

Clothing appropriate for forecasted weather

Flashlight or headlamp

Emergency rain poncho

Personal first aid Kit

WAG bags and restroom necessities
Recommended Optional Gear:
Sunscreen

Bug Spray

Binoculars

Camera

Extra Socks

Water Shoes


REGISTRATION IS OPEN FOR DATES IN SEPTEMBER 2023; SEPTEMBER 8-9; SEPTEMBER 14-15; SEPTEMBER 21-22; AND SEPTEMBER 29-30. PLEASE USE THE ONLINE REGISTRATION FORM BELOW:
Last updated: August 28, 2023