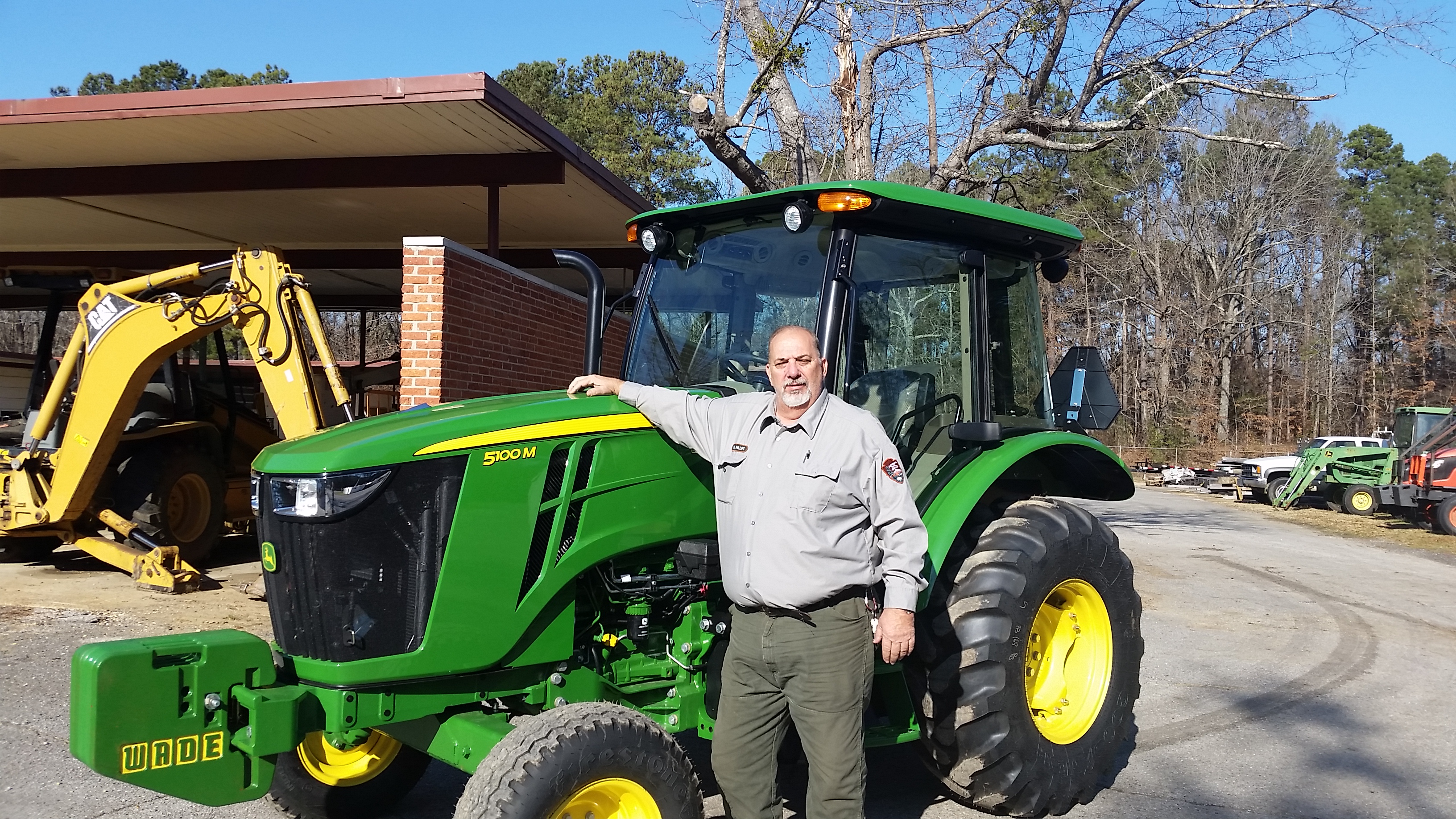 News Release Date:
March 30, 2018
Contact: Mary Risser, 662-680-4005
TUPELO, MS:  "After 29 years of service on the Natchez Trace Parkway, Michael (Mickey) Phillips retires today, and the Parkway loses a wealth of institutional knowledge," stated Chief of Maintenance Barry Boyd. "Ever since October 1989, Mickey has been a consistent and productive member of the Tupelo maintenance crew."
Phillips started his National Park Service career 1989 as a Maintenance Worker and began operating tractors in 1996. His first tractor was a 1993 John Deere 6300, one of the initial tractors on the Parkway with an enclosed cab; this tractor is still being used. He was promoted to a tractor operator lead. Phillips has excelled at working closely with the Property Officer as new equipment comes into the Park and with the process of selling old equipment to ensure the Parkway's equipment accountability.
"Mickey Phillips and I grew up together and as teenagers worked at a grocery store," reminisced retired maintenance foreman Terry Stanley. "Even back then I knew I could count on him. When I got hired as a supervisor at the Parkway, and Mickey applied as a tractor operator, I knew he would be a great fit. 

He brought the kind of knowledge, experience, dedication, work ethic, and leadership to the Parkway that simply cannot be measured. 

He was always on time, never missed work, and instinctively knew what to do. I'd come in first thing in the morning, and he already had the day planned, equipment ready, and employees briefed and ready to start work. His leadership made the district run without a hitch. I always referred to him as the "Rock," and the Parkway won't be the same without him."  
"I am proud that I have been able to complete my career on the Natchez Trace Parkway. As far as highlights, though, I'll plead the fifth," Phillips commented with a smile. "My greatest achievement, however, is being able to provide for and raise two fine sons."
"Many Parkway employees have fond memories and stories about working with Mickey," stated Superintendent Mary Risser. "When he moves on, he'll leave a huge hole in the Tupelo maintenance operation. We are all so used to being greeted by a big smile. That smile and willingness to help anyone will be sorely missed."
PHOTO CAPTION:
 Michael Phillips stands by one of the many tractor's he operated and maintained at the Parkway.
www.nps.gov
About the National Park Service. More than 20,000 National Park Service employees care for America's 417 national parks and work with communities across the nation to help preserve local history and create close-to-home recreational opportunities. Learn more at 
www.nps.gov
.