Animals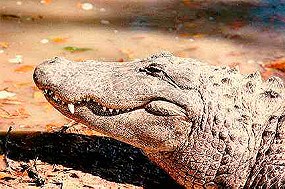 Animal life abounds in the park, from the worms that burrow underfoot, to the people whose feet are burrowed under. The reason that animals are found here in such abundance has to do with our name. Notice that even though most people travel through the park by car on a paved road, we are not called the "Natchez Trace Roadway". Rather, we are very deliberately called the "Natchez Trace Parkway", with emphasis on the "park". The Parkway includes not just the road and mowed shoulders, but a swath of property extending outwards an average of 400 feet in each direction. Being that the parkway is 444 miles long, this means that the park acts as a "greenway", or habitat corridor, for the myriad of animal species that inhabit this part of the country. However, since the paved parkway itself extends down the middle of this greenway, it is vitally important that drivers slow down and pay attention in order to avoid making road-kill of the park's creatures. Please help us by obeying posted speed limits while traveling within the park.
Select a Park:
Select a Species Category (optional):
Search results will be displayed here.

Visit NPSpecies for more comprehensive information and advanced search capability. Have a suggestion or comment on this list? Let us know.
Come back later, we are working on this page.
Last updated: February 4, 2022