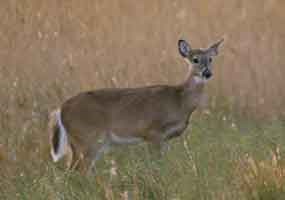 As a 444-mile long National Park, the Natchez Trace Parkway provides a safe corridor for wildlife to move between neighboring National Forests, State Parks, and other public lands. The diversity of the 33 confirmed mammal species along the Parkway is outstanding. While traveling on the Parkway, visitors may see mammals on the move, especially around dawn and dusk. Deer are quite common, but a lucky traveler may have a chance to see a coyote, fox, or armadillo. While black bear have been confirmed on the Parkway, due to their large habitat requirements, a bear sighting is extremely rare.
For those interested in seeing mammals at a slower pace, a short walk on a nature trail will provide an opportunity to get off the roadway and see things that many visitors miss.
Download a complete list of mammals of the Natchez Trace Parkway.