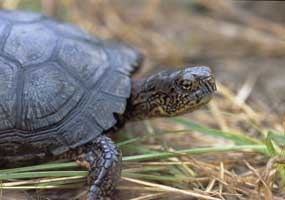 The Parkway is home to over 40 different species of reptiles, including alligators, turtles, and snakes. While reptiles may not be as easy to spot as many of the mammal species of the Parkway, there are opportunities to see alligators at Cypress Swamp, or turtles along the numerous creeks and streams along the Natchez Trace Parkway.
There are 25 species of snakes that live along the Parkway, with only three of them being venomous (Southern Copperhead, Western Cottonmouth, and Canebrake Rattlesnake). While the chance of seeing a venomous snake is rare, visitors are encouraged to use caution when hiking and picnicking along the Parkway. Visitors should pay close attention to where they place their hands and feet. All wildlife, including venomous snakes, is protected along the Natchez Trace Parkway.
Download a complete list of reptiles and amphibians of the Natchez Trace Parkway.