People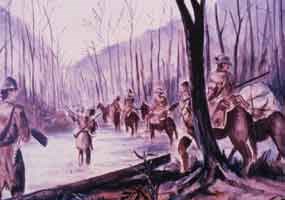 People have been using the Natchez Trace for thousands of years. The Choctaw, Chickasaw, and Natchez, as well as pre-historic American Indians all called the area home for part of the year. The most celebrated travelers of the Natchez Trace were farmers and boatmen from the Ohio River regions of Pennsylvania, Ohio, and Kentucky floating supplies down to ports in Natchez and New Orleans at the beginning of the 1800s. Regardless of where they came from, they were collectively known as "Kaintucks."
Several famous figures traveled the Natchez Trace. Meriwether Lewis, of the Lewis and Clark Expedition, was traveling through in 1809, when he died under mysterious circumstances at a small cabin in Tennessee. Andrew Jackson traveled on the Trace with his troops during the War of 1812.
Whether famous, infamous, or anonymous, travelers of the Natchez Trace relied heavily on this wilderness road. The Trace was a road home, a path of exploration, and a link to the growing population of the Old Southwest. Over time, new roads and population centers were developed and steamships carried people and supplies upstream. The Old Trace fell out of use. Reestablished as a unit of the National Park Service in 1938, the Natchez Trace Parkway was completed in 2005. The route still serves as a connection between population centers, and allows modern travelers to explore and discover the history and culture of earlier generations.
Last updated: September 8, 2020