History & Culture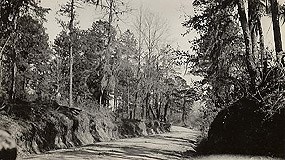 The history and culture found along the Natchez Trace Parkway is a lifetime worth of exploration for students of history, or just the curious. The number of cultures and historic topics touched by the Natchez Trace seems boundless. To begin your exploration check out the links below to learn about the past.
People of the Parkway
Whether famous, infamous, or anonymous, travelers of the Natchez Trace relied heavily on this wilderness road. The Trace was a road home, a path of exploration, and a link to the growing population of the Old Southwest.
Places on the Parkway
The Natchez Trace Parkway is a 444-mile recreational road and scenic drive through three states. It roughly follows the "Old Natchez Trace" a historic travel corridor used by American Indians, "Kaintucks," European settlers, slave traders, soldiers, and future presidents.
Stories
Sections of the Old Trace are the common ground that connect us to the stories of people across centuries.
Please remember, it is a violation of federal law to disturb or remove any artifact from park lands.
Learn what to do if you find an artifact!


Last updated: January 13, 2021