Read with a Ranger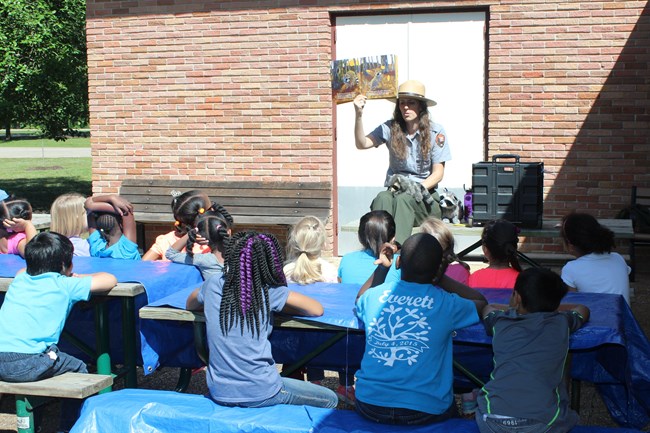 The story of the Natchez Trace Parkway and the Old Trace is one of diverse stories and perspectives. We here at the Parkway believe it is never too early to learn about diversity! The stories available for our Read with a Ranger program help introduce challenging topics to your young students that capture different viewpoints of the diverse people who have lived, worked and traveled along the Old Trace over the last ten thousand years. Our Read with a Ranger programs allow your students to connect with the stories people who lived so long ago through the magic of reading and will help encourage a life long love of reading and learning. All Read with a Ranger programs are suitable for grades preschool through 3rd grade and contain threads of equality, social justice, resilience and empathy. See our list of Read with a Ranger programs we offer below to find one that best suits your class.

Read with a Ranger programs can be delivered in-person or virtually. Please schedule programs a minimum of two weeks in advance.
If You Were A Kid During the Civil War by Wil Mara
This short story highlights a young boy and girl to help teach others about the injustices which occurred during the Civil War. This story builds empathy for what other children experienced during this time.
"C" is for Chickasaw by Wiley Barnes and Aaron Long
Designed for early elementary students, this program uses the alphabet as a tool to teach and build respect for the Chickasaw culture. As rangers read the story, they talk about cultural differences and celebrate them with the class.
Crossing Bok Chitto by Tim Tingle
A Choctaw tale of friendship and freedom, this story discusses trust, resiliency, and the presence of Choctaw and enslaved African Americans along Natchez Trace. Based on a true story, descendants still talk about the night the two parties met and how they worked together towards freedom.
Charlotte Spies for Justice by Nikki Shannon Smith
Making difficult choices requires bravery. This short civil war survival novel is best read over two or three sittings. The story covers battlefields and survival along the Natchez Trace while highlighting the importance for social justice for all.
Saltypie: A Choctaw Journey from Darkness into Light by Tim Tingle
When a family works and sticks together, there is nothing that cannot be accomplished. This story follows a Choctaw family through hardship and celebration, teaching family values, strength and resiliency in terminology appropriate for elementary-aged children.
Two Friends: Susan B. Anthony and Frederick Douglass by Dean Robbins
We can all make a difference if we try. This story illustrates how a woman and a former enslaved man worked together to change society and create a better world for everyone.
For additional information or to schedule a program, please email us or call (662) 680-4027.

If you are looking for virtual programs for an older group, check out our distance learning program!
Last updated: May 10, 2022