Distance Learning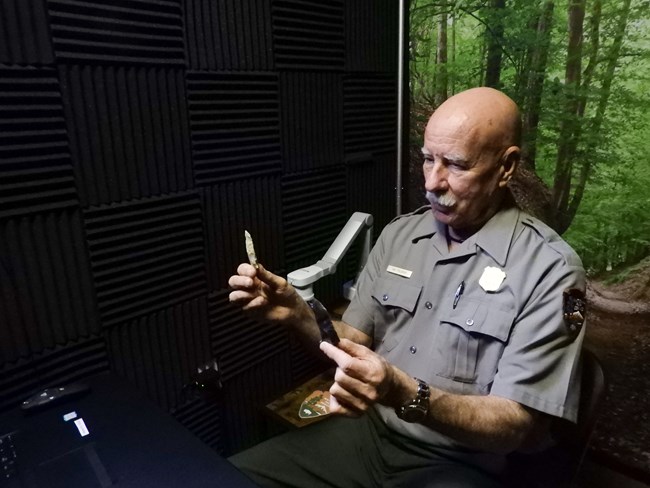 Introduce your classroom to their national park virtually today!
If bringing your students to the Natchez Trace Parkway is a challenge, consider scheduling a distance learning program where we bring the Parkway to your classroom whether you're in Mississippi or across the country. Since we began presenting distance learning programs in the Fall of 2020, we have given virtual programs to schools in Mississippi, Tennessee, Texas, Florida, New Jersey, Colorado, and California. Through our distance learning programming we have greatly expanded our reach allowing us to teach even more children about the importance of cultural and natural history the Parkway has to offer. We offer programs that cover topics such as general Parkway history, geology, westward expansion, Meriwether Lewis, and American Indian history and their removal. Schools can connect directly to the park rangers through Microsoft Teams and other video conferencing software. We can also receive Zoom calls. We can work with you or your IT staff beforehand to set up a virtual meeting to make sure all of the equipment works.
Look below to find a program below that best suits you and your class.


Traces Through Time: A General History of Natchez Trace
Are you a person who likes history or national parks? Join us for 45-minutes and learn the history of the Parkway, going back thousands of years when bison roamed through today. Learn about the people, explorations and stories held along this special place.

Best for 4th grade through College.
Those Who Walked Before Us: American Indians of Natchez Trace
There is always so much to learn from people who were here before us. Join us in this 45-minute program to learn about the people who called this place home for over 12,000 years. From the Paleo Indian period, the Trail of Tears to today, the American Indians of Natchez Trace have seen it all.

Best for 4th through 8th grades
Out of the Depths and Into the Park: Geology of the Mississippi River Valley
Learn the role of geologic activity in drawing people to the Mississippi River Valley. This 45-minute program discusses the physical and human characteristics of places and regions and how they are connected to human identities and cultures.

Best for 4th through 8th grades
The Spark of Bravery, a Fire of Discovery: The Life of Meriwether Lewis*
One of the bravest men in American history, join us for 45-minutes as we take a look at the incredible life of Meriwether Lewis from childhood through the Corps of Discovery, to his final days along Natchez Trace. *This program briefly discusses his suicide, with minimal detail, and the National Suicide Prevention Lifeline contact information.

Best for 6th grade through high school.
For more information or to schedule a program, please
email us
or call (662) 680-4027 to speak with a ranger!

Do you have a younger crowd? Check out our
Read with a Ranger
program!
Looking to come in person? Check out our
self-guided
field trips!
Last updated: May 10, 2022