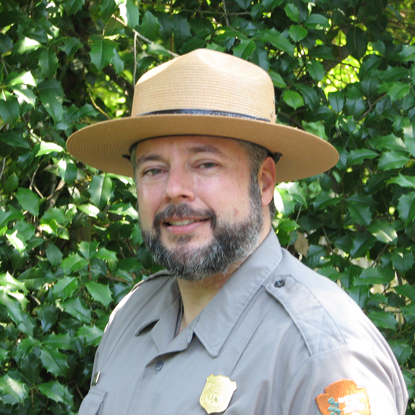 News Release Date:
June 24, 2013
Contact: Jane Ahern, Chief of Communications, Northeast Region 215-597-0865
Philadelphia -- National Park Service Northeast Regional Director Dennis R. Reidenbach has named Thomas E. Ross as the superintendent of Thomas Edison and Morristown National Historical Parks in New Jersey. Ross, who has been superintendent at Sagamore Hill National Historic Site since 2007, assumes his new post on September 8th, 2013.He replaces former Superintendent Jill Hawk who earlier this year accepted a leadership position at the National Park Service Law Enforcement Training Center in Brunswick, GA.
"Tom brings strong and consistent experience with community engagement and successful partnerships," said Reidenbach. "His willingness to experiment and apply creativity to historic sites will be a great benefit to two parks that truly represent perseverance and innovation."
In his role as superintendent of Sagamore Hill, Ross made tremendous progress in improving the park's infrastructure, including road re-paving, collections conservation, and historic building rehabilitation.He has ensured strong partnerships to support the park including working with many community groups, and he was successful in facilitating the first General Agreement between the park, the Theodore Roosevelt Association, the Theodore Roosevelt Birthplace NHS, and the National Park Foundation.Prior to Sagamore Hill, he served as Deputy Director and Acting Executive Director of the John H. Chafee Blackstone River Valley National Heritage Corridor headquartered in Woonsocket, Rhode Island. The corridor comprises nearly 400,000 acres within central Massachusetts and northern Rhode Island. Ross worked collaboratively with a federal commission as well as state and local governments, businesses, nonprofit historical and environmental organizations, educational institutions, and private citizens to preserve and interpret the Blackstone Valley. While at Blackstone, he also managed Roger Williams National Memorial in Providence, RI which celebrates Roger Williams, the founder of Rhode Island, and a champion of the ideal of religious freedom.
"I am honored to serve at these two great parks, Morristown and Edison, which speak so clearly to that great American spirit of liberty, perseverance, ingenuity and invention" said Ross, " I look forward to working with the community, park partners, volunteers and staff at both parks in continuing the work of preserving and interpreting these very special places."
Ross began his career with the National Park Service in 2000 as the community planner for New Bedford Whaling National Historical Park in New Bedford, Massachusetts. He later became the deputy superintendent there, responsible for planning, partnership development, and operations management.A native of Acushnet, Massachusetts, Ross received a Master of Regional Planning from the University of Massachusetts-Amherst. He also holds a Bachelor of Science degree in Geography, and a Bachelor of Arts Degree in History, Cum Laude, with teacher certification from Bridgewater State College, and an Associate Degree in Applied Science and a Security Administration Degree from the Community College of the Air Force.Ross graduated from the rigorous USDA Executive Leadership Program in 2005.Ross looks forward to moving to New Jersey with his wife, Kerrie, and their two young sons.