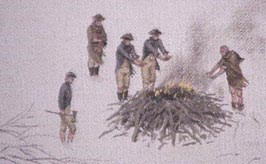 Why is Valley Forge so famous when the 1779-1780 Morristown encampment had the worst winter of the 18th century?
Probably because more soldiers died during the Valley Forge encampment. It is estimated that between one to three thousand soldiers died during the Valley Forge encampment while only about one hundred died at Morristown's 1779-1780 encampment.
While most people think the 1777-1778 Valley Forge encampment had a bad winter, in reality it was just an average winter. The following winter at Middlebrook [1778-1779] was mild. Weather historians agree that the Morristown winter of 1779-1780 was the worst winter of the 18th century.
It wasn't the weather that was the problem at Valley Forge; it was the army's inexperience. For most of the soldiers at Valley Forge it was their first winter camp with the army. The camp and hut construction wasn't up to the standards later used at Morristown. The men lived in damp conditions and did not properly take care of camp sanitation. As a result many men sickened and died.
By the winter of 1779-1780, however, most of the soldiers were veterans and had grown accustomed to the harsh military life. They knew how to properly set up a winter camp and most had been inoculated against smallpox. Consequently, though the men suffered through a harsh winter and lacked proper food and clothing, they were able to survive.