Mount Rainier Transitions to Fall Schedules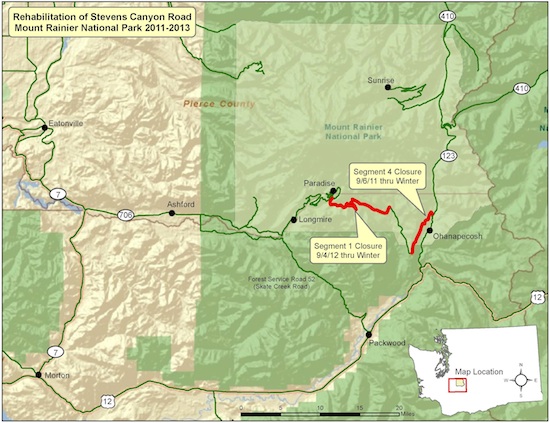 News Release Date:
September 1, 2011
**Stevens Canyon Road Repairs Start September 6**
With Labor Day rapidly approaching and the school season beginning, Mount Rainier National Park will begin the transition to Fall operations. For park visitors, there are still many opportunities to enjoy camping and hiking, mountain climbing, picnicking, and due to the late snow melt, maybe a rare opportunity to view wildflowers and fall colors simultaneously. Or perhaps a relaxing overnight stay at Paradise Inn or the National Park Inn within the park, away from the hustle and bustle of city life.
Visitors also have one last chance to ride the free weekend shuttle bus to Paradise. Shuttle operations will end on Sunday, September 4. Busses leave Longmire Friday, Saturday and Sunday beginning at 10:00 a.m. and from Ashford on Saturday and Sunday.
A major impact for visitors beginning September 6 will be the closure of the Stevens Canyon Road on the east end for road construction.  This road will be closed to all traffic between the gate located just west of the Grove of the Patriarchs to just east of the popular Backbone Ridge viewpoint beginning September 6, through the 2011-2012 winter (see map). This will be a 24/7 closure. However, visitors will still be able to access the Backbone Ridge, Reflection Lakes and Box Canyon areas via State Routes 7 and 706 through the Nisqually Entrance (southwest entrance). Visitors traveling between the east and west sides of the park have two options: Gifford Pinchot National Forest Road 52 (Skate Creek Road) beginning in Packwood, or the longer route via State Route 7 beginning in Morton on US 12 and connecting with SR 706 at Elbe.
During this road closure park visitors will still be able to access the trailhead areas on State Routes 123 and 410 as well as the White River and Sunrise areas.  Many gateway businesses also remain open outside the park boundary into the fall and winter seasons. For more information on gateway businesses, check these websites:  www.visitrainier.com, www.mt-rainier.com, www.staycrystal.com, www.destinationpackwood.com,  www.minerallake.com, or www.mtrainierguestservices.com.
At Sunrise, the Visitor Center will remain open daily from 10:00 a.m. to 6:00 p.m., through September 11 offering visitor information, exhibits, book sales and ranger programs. After that date, the Visitor Center will be open Wednesday through Sunday until September 25, when it will close for the season.
The
Sunrise Day Lodge
, snack bar and gift shop will be open daily through Labor Day, September 5, then weekends only through September 25 with limited services (this is weather dependent).
Automobile campgrounds at Cougar Rock and Ohanapecosh will remain open through October 10. White River Campground is scheduled to close for the season on September 25.
The last weekend to visit the historic
Paradise Inn
is October 1. The Inn, which provides lodging, dining (breakfast, lunch and dinner), and a gift shop will close its doors for the season on October 3. The
National Park Inn at Longmire
is open year round. For reservation information call 360-569-2275, or online at
www.mtrainierguestservices.com
.
On September 24, the park will participate in National Public Lands Day, the nation's largest hands-on volunteer effort to improve and enhance public lands. Volunteers can participate in helping park staff on projects in the Sunrise and White River areas of the park. Volunteers can sign up to help the park out on the Volunteer webpage, or by calling 360-569-6567 for information. September 24 will also be a fee-free day at many federally managed lands, including Mount Rainier.
For current information and programs visit the park's
web page
or call 360-569-2211.
-NPS-
Last updated: December 15, 2017