News Release
Successful rescue at 12,200' on Mount Rainier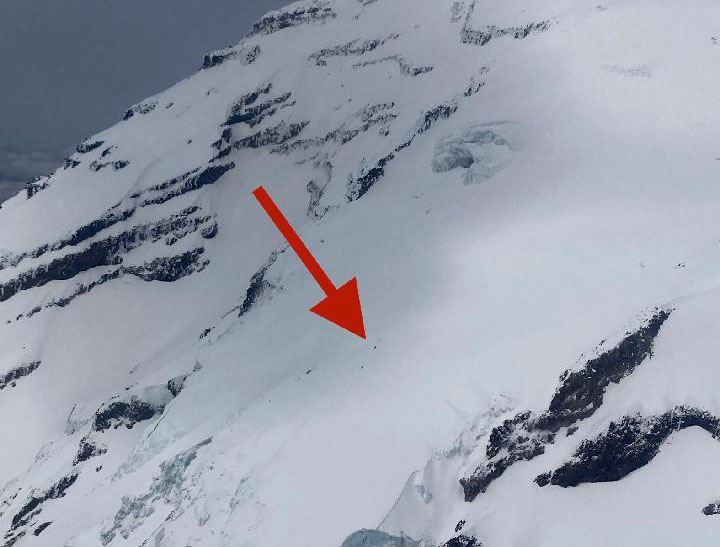 News Release Date:
May 16, 2022
Contact: Patti Wold, 360-569-6563
Contact: Collin Johnson, 253-350-1730
ASHFORD, Wash. – A team of two climbers was rescued by helicopter from the Kautz Climbing Route on May 13, 2022.
On May 13, the USAR F Company 2-135th Chinook helicopter with the 304th Air Rescue Squadron out of Portland, Oregon on board, attempted an early morning rescue operation which was unsuccessful due to heavy and erratic winds. They returned several hours later to assess conditions and extricated the first climber by hoist from the Kautz Glacier surface.
Later that afternoon the National Park Service Contract Helicopter 25CL inserted a team of four Mount Rainier National Park climbing rangers at 13,000' on the mountain. The team climbed down to the incident location where they accessed and removed the second climber from 80' deep inside the crevasse that he had fallen into. He was then extracted from the glacier surface by short-haul by the 25CL helicopter.
Deep snow, strong and erratic winds, and limited visibility at the accident site caused significant challenges for National Park Service and military rescue teams.
On Wednesday, May 11, 8:10PM, the party reported via a 911 call that adverse weather had forced them to halt their ascent at 12,800' on the Kautz Glacier climbing route just below the Wapowety Cleaver. The party did not initially request assistance. In a subsequent call on May 12, at 7:30AM, the party indicated that they were still mobile and planning to attempt a descent of the Disappointment Cleaver Route. Progress of the team was monitored through cell phone signal.
Three hours later, at 10:30AM, the subjects reported that one member of the party had fallen into a large crevasse sustaining arm and leg injuries. The individual in the crevasse was able to establish cell phone contact with Mount Rainier National Park Dispatch and his partner on the glacier's surface but they were unable to self-rescue. Terrain and weather prohibited immediate rescue efforts. Planning for aviation and ground team response moved forward for implementation when conditions permit.
A CH-47 Chinook from USAR F Company 2-135th GSAB and members of USAF 304th Air Rescue Squadron out of Portland, Oregon, National Park Service climbing rangers, and the Mount Rainier National Park contract helicopter, owned and operated by Hillsboro Aviation, were involved in the operation.
More information about the route is available on the
Kautz Glacier Route Guide.
About the National Park Service: More than 20,000 National Park Service employees care for America's 423 national parks and work with communities across the nation to help preserve local history and create close-to-home recreational opportunities.
Last updated: May 17, 2022