News Release
Search and Rescue Operations at Pebble Creek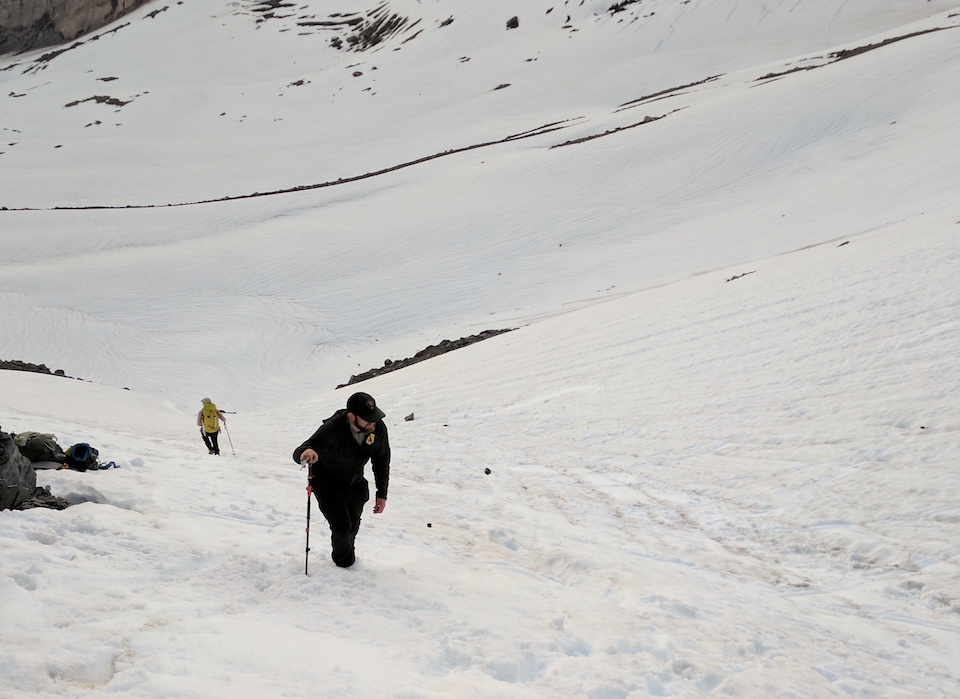 News Release Date:
July 4, 2017
Contact: Patti Wold, PIO, 360-569-6563
Searchers have been unable to locate a skier who is believed to have fallen through a snowbridge into Pebble Creek on July 3, 2017.  
While skiing from Camp Muir to Paradise, a 30-year old male from Washington State fell into a hole that spanned the rushing water of Pebble Creek. Using an avalanche probe, his partner searched for two hours before completing his descent to Paradise to report the incident.  
A ground search was conducted that evening followed by an aerial search this morning. Neither located any sign of the missing skier. Late season snow is creating unsafe search conditions. Search personnel will continue to monitor the area while waiting for conditions to improve.  
The names of those involved are not being released at this time.  
Some late-season snow tips for those planning to visit the park in the next few weeks:
Many trails and routes are still snow-covered and will be well into the summer.
Choose to turn around instead of crossing steep, snow–covered slopes. A fall could be disastrous.
Falling through thin snow bridges is a hazard anywhere streams remain snow-covered. Listen for the muffled sound of running water under the snow.
Avoid stepping onto snow cornices as they may collapse under your weight.
Falling into snow moats around trees, and adjacent to logs and rocks, can cause injury. Avoid getting too close.
You may need a reliable map and compass skills to traverse snow-covered trails, which can be difficult to follow, particularly in backcountry areas
Beware of avalanches! Unstable snow may slide at any time...not just in winter!
Before starting a hike, stop by a Wilderness Information Center or visitor center for the latest trail conditions.
Approximately 20 individuals have been involved in the operations including Mount Rainier National Park personnel, a guide from Rainier Mountaineering Incorporate (RMI), and the park's exclusive-use helicopter crew.
-NPS-
Last updated: July 5, 2017