News Release
Mudslides and Flooding Block Entrances to Mount Rainier National Park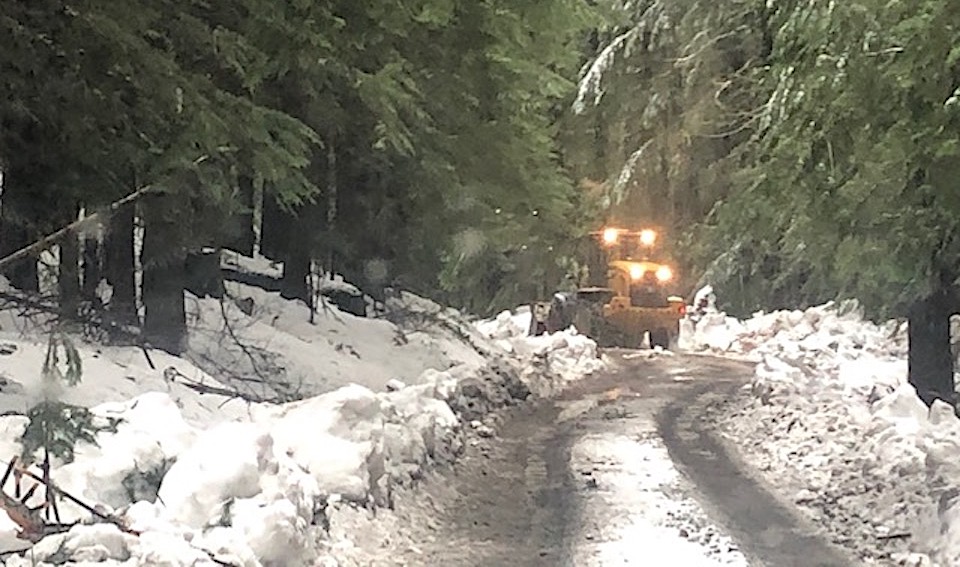 News Release Date:
February 8, 2020
Contact: Mount Rainier Media Line, 360-569-6510
Heavy rains and saturated soil have caused localized flooding, mudslides and damage to several roads outside Mount Rainier National Park, including State Route (SR) 706. All roads leading into the park are currently closed, and there is no access to Paradise or the Longmire Historic Landmark District. National Park Service (NPS) staff cleared an emergency access route to evacuate National Park Inn guests and remaining NPS staff members from Longmire. On Friday, February 7, and Saturday, February 8, National Park Service staff, Pierce County Fire District 23 and Pierce County Department of Emergency Management worked cooperatively to support the voluntary evacuation of Ashford residents stranded by floodwaters near the park's entrance on SR 706.  
Deputy Superintendent Tracy Swartout states that "park staff are working around-the-clock, and in close partnership with the Rainier Guest Services team and state and local officials to protect life, health, and safety of residents, visitors, and employees first- and protecting critical infrastructure related to our nationally-significant buildings and roads, second."
Essential staff remaining on duty within the park are focused on maintaining emergency access and services for remaining critical NPS staff and stranded residents outside the park, as well as securing critical water, wastewater, electrical, and drainage infrastructure inside the park. 
Continued flooding within park boundaries is causing damage to roads, trails and historic structures including the National Park Inn and other nationally-significant buildings within the Longmire National Historic Landmark District. Several buildings in Longmire have lost critical systems as sump pumps have been unable to keep up with water intrusion.
Crews are also beginning to evaluate road and drainage system damage between the Nisqually entrance and Longmire, however, continuing precipitation is hampering crew progress. Initial indications are that the park's main entrance road has sustained some damage near Sunshine Point (where a catastrophic flood washed out the entrance road in 2006).
Elsewhere in the park, access to the Carbon River area is blocked due to a significant washout on Pierce County's Fairfax Forest Reserve Road, and SR 410 is currently blocked by four slides between Enumclaw and the park entrance. Pierce County is projecting the Fairfax Forest Reserve Road will require a long-term closure and will be assessing a detour route in coming days.
Once precipitation slows across the park, critical systems are protected, and waters begin to recede, NPS staff will conduct a more comprehensive evaluation of in-park road and infrastructure impacts. Significant damage to roads, trails and utilities in multiple areas within the park is anticipated, with more damage likely to be found as the snow melts this spring. Visitors should anticipate delays in access to Longmire, Paradise, and the Carbon River area, even as state roads open outside the park. 
For updates to WSDOT-maintained roads outside the park, including SR706 and SR410, please visit the WSDOT traffic alert and twitter sites. For Pierce County road updates (including Fairfax Forest Reserve Road that leads to the Carbon and Mowich areas of the park), please visit their website. For updates related to roads and infrastructure inside the National Park, Mount Rainier will continue to provide updates via Facebook, Twitter, and as needed, with press releases.  
For daily updates on the park's winter road status visit @MountRainierNPS on Twitter (account not required). Check the park web cameras to view current conditions.