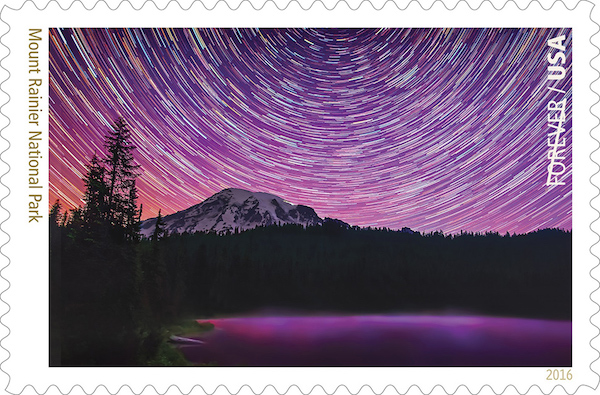 News Release Date:
May 31, 2016
Contact: Tracy Swartout, Deputy Superintendent, 360-569-6502
Superintendent Randy King invites the public to a special event on Thursday, June 2, to mark the first day of issue and the formal unveiling of a new United States postage stamp that pays tribute to Mount Rainier National Park. This stamp is part of the new National Parks Forever series issued in celebration of the National Park Service's Centennial. Park entrance fees will be waived for all visitors for the day. 
This Thursday's events will take place at the Paradise Inn, located inside Mount Rainier National Park. Retail sales for the new stamp and other special first day of issue commemorative items will begin at 10:00 am at the Inn and the formal dedication ceremony and unveiling will start at 11:00 am. 
Postage stamps were first issued in the United States in 1847- a little over 50 years before Mount Rainier National Park was established in 1899. However, this marks the second time that the park has been honored with a stamp. The first park stamp was issued in 1934 as part of ten-park series and displayed the mountain with Mirror Lake in the foreground. To help celebrate the new stamp, Mount Rainier National Park Superintendent Randy King and USPS Seattle District Manager Don Jacobus will be on hand to meet park visitors and sign stamp-related collectables. 
This year's stamp itself displays an image from photographer Matt Dieterich, who worked in the park as a "geoscientist-in-the-park" intern during 2015. To create the star trails image, he took 200 photos during a two-hour window between 2 am and 4 am. When the photos are combined into one image the stars create a circular pattern around the North Star, which is just out of view at the top of the image. The pink aurora borealis is visible throughout the background sky. 
Mount Rainier National Park invites you to visit and enjoy a wide range of experiences and Centennial events planned for 2016. Keep updated on park happenings, discover things to do, and learn more about the park's many resources by visiting the park website. 
-NPS-