News Release
Chip Jenkins Selected as Mount Rainier Superintendent
Date:
February 1, 2018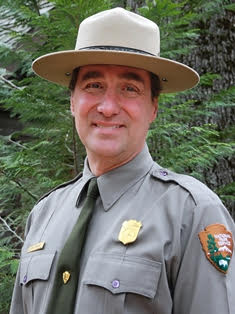 The National Park Service has selected Palmer "Chip" Jenkins, Jr., to be the next superintendent at Mount Rainier National Park. Jenkins replaces Randy King who retired in January.
"Chip brings with him his years of experience working in the Pacific Northwest," said Martha Lee, acting regional director for the Pacific West Region. "His leadership acumen and established rapport with many key partners in Washington state will serve the park well."
Jenkins is a 31-year veteran of the National Park Service. He is the Pacific West Region deputy regional director based in Seattle, responsible for the region's resource management and park planning programs. He also supervises park superintendents in the states of Washington, Oregon, and Idaho. Since March 2017, Jenkins has been on temporary assignment to Yosemite National Park as the park's acting superintendent.
"In my current job, I'm often away from home. Mount Rainier has always been a beacon of sorts for me," said Jenkins. "When I see it, I know I'm home. And now, that cannot be more true. I am honored to have the chance to work with the professional and passionate people who make Mount Rainier a magical place."
Jenkin's career began as a seasonal park ranger at North Cascades National Park. He has worked on some of the Park Service's more complex development and restoration issues including expanding the purpose of Fort Clatsop National Memorial to encompass the Lewis and Clark sites along the Washington and Oregon sides of the lower Columbia River. During a previous tour at Yosemite National Park, he helped develop a regional transportation system and numerous partnership projects.
Jenkins has served as a superintendent at North Cascades National Park Service Complex in Washington and Lewis and Clark National Historical Park headquartered in Astoria, Oregon. He's also worked at parks in Southern California, Colorado and Indiana; and as a special assistant to the Park Service director in Washington, D.C.
Jenkins is a graduate of the University of California at Santa Barbara and holds a bachelor's degree in geography and environmental studies.
He is looking forward to exploring Mount Rainier and the surrounding area with his wife, Laurie Lee Jenkins, who also works for the Park Service and his two sons Hayden, a student at the University of Washington and Logan who is in high school.
Jenkins will assume his new role in mid-March.
Mount Rainier National Park is the nation's fifth national park, created when President William McKinley signed legislation into law on March 2, 1899. The boundaries of the park encompass 235,625 acres of forests, meadows and mountains, with 97 percent of the park designated as wilderness and the remaining three percent being part of the National Historic Landmark District. Mount Rainier, the focal point of the park, is a large volcanic peak that rises to 14,410 feet, towering far above any other peak in the North Cascade mountain range. For more about the park visit: https://nps.gov/MountRainier.
Last updated: February 1, 2018