Nature & Science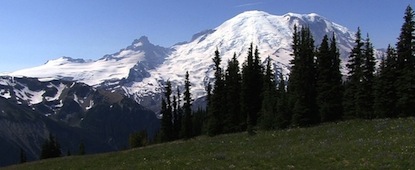 Mount Rainier National Park encompasses 236,381.49 acres on the west-side of the Cascade Range, and is located about 100 kilometers (50 miles) southeast of the Seattle-Tacoma metropolitan area. Mount Rainier National Park is approximately 97 percent wilderness and 3 percent National Historic Landmark District and receives approximately 2 million visitors per year.
At 14,410 feet, Mount Rainier is the most prominent peak in the Cascade Range. It dominates the landscape of a large part of western Washington State. The mountain stands nearly three miles higher than the lowlands to the west and one and one-half miles higher than the adjacent mountains. It is an active
volcano
that last erupted approximately 1,000 years ago with small
earthquakes
occasionally. The park contains 25 named
glaciers
across 9 major watersheds, with 382 lakes and 470 rivers and streams and over 3,000 acres of other wetland types. In addition to protecting park
water quality
, Mount Rainier National Park is a Class I protected
air quality
area.
The park is part of a complex ecosystem. Vegetation is diverse, reflecting the varied climatic and environmental conditions encountered across the park's 12,800-feet elevation gradient. Approximately 58 percent of the park is forested, 23 percent is subalpine parkland, and the remainder is alpine, half of which is vegetated and the other half consists of permanent snow and ice. Forest ages range from less than 100 years old on burned areas and moraines left by receding glaciers to old-growth stands 1,000 or more years. Some alpine heather communities have persisted in the park for up to 10,000 years.
Species known or thought to occur in the park include more than 964 vascular
plants
(including hundreds of species of
wildflowers
), 182
birds
, 65
mammals
, 11
amphibians
, 4
reptiles
, and 12 native
fishes
. Of these vertebrates, 3 species of fish are
federally listed
as threatened, while 2 bird, 3 bat, 3 amphibian, and 1 insect species are federally listed species of concern. Several species are listed as imperiled or species of concern by the
state of Washington
. Species that have historically occurred in the park but are no longer believed to be present include the gray wolf, grizzly bear, and Canada lynx.
From the glaciers to the forests, climate change is altering the landscape of Mount Rainier. Many scientists and students come to the park for climate change research and education, as well as to study Mount Rainier's plants, animals, geology, and more. Mount Rainier National Park is also a Climate Friendly Park, utilizing sustainable practices whenever possible.

---
North Coast and Cascades Science Learning Network
Learn more about the environment of Mount Rainier and the Northwest Region. Also, make sure to check out their impressive
video series
.
Inventory and Monitoring at Mount Rainier
The North Coast and Cascades Network also manages all the inventory and monitoring studies carried out in Mount Rainier National Park, which includes surveys of elk, landbirds, landscape dynamics, glaciers, water quality, mountain lakes, forests, subalpine vegetation, and climate.