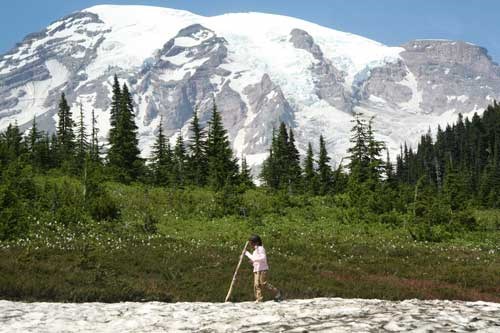 Mount Rainier is a beautiful, powerful, and ever-changing place. Hiking and wildflower viewing are big reasons people visit the park. You can also step back in time and walk in the footsteps of the pioneers by visiting historic buildings.
The park has backcountry campsites for backpackers looking to sleep under the stars. Mountain climbers also flock to Mount Rainier to be one of the ten thousand people every year who to climb the mountain.
The fun doesn't hibernate in winter. Sledding, snowshoeing, winter camping, and skiing, are all activities people enjoy.
No matter the season, there is always the opportunity to spend time observing and connecting with the natural world.
Maps
View a map of the park here.
In-depth safety information can be found here.
Trails
Here are some ranger picks of awesome hikes for kids. Click on the name of the hike to find out more about it and get trail maps. Ranger Tip: Always remember the
10 essentials
and an adult when going hiking.
Silver Falls
Bench and Snow Lakes
Naches Peak Loop
Twin Firs
Grove of the Patriarchs

Mount Rainier Junior Rangers
Are you looking to earn your first National Park Junior Ranger badge or add to your collection? Well, Mount Rainier has Junior Ranger books available at all our visitor centers. Complete the activities for your age group, have a ranger review your work and you will be sworn in and issued your official Mount Rainier Junior Ranger badge.
Can't make it to the park or you just want to be the best Junior Ranger you can be? Then check out the WebRangers Program!