Garden Grove
Garden Grove - Garden Grove, Iowa
Garden Grove, the first permanent settlement on Potawatomi Indian lands in territorial Iowa, served as a Mormon way station from 1846 to 1852. Cabins and fences were built, wells were dug, and crops were planted to provide a resting place for those who could not continue and for those who would soon arrive.
Orson Pratt recorded on May 10, 1846, "A large amount of labour has been done since arriving in this grove: indeed the whole camp are very industrious. Many houses have been built, wells dug, extensive farms fenced, and the whole place assumes the appearance of having been occupied for years, and clearly shows what can be accomplished by union, industry, and perseverance."
The present-day town of Garden Grove, Iowa, grew up near the old Mormon camp.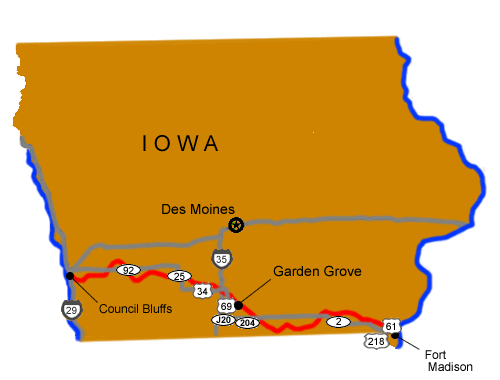 More Mormon Pioneer NHT sites:
Last updated: February 10, 2020