Nauvoo National Historic District
Nauvoo National Historic District - Nauvoo, Illinois
In the spring of 1839, the Church of Jesus Christ of Latter-day Saints established a new settlement on the banks of the Mississippi River in Illinois. The town was named Nauvoo - reportedly from a Hebrew word meaning beautiful place.
Nauvoo was the Mormon headquarters for seven years during which time the church flourished, and the settlement quickly became one of the largest cities in Illinois. Hostility, suspicion and trouble increased in direct proportion to the community's growth and success, and the Mormons were forced to flee their homes during the winter and spring of 1846. On April 24, 1846, Newel Knight, who departed with the spring exodus, lamented: "We all halted & took a farewell view of our delightful City. . . . We allso beheld the magnificent Temple rearing its lofty tower towards the heavens . . . we allso took a farewell look of our Comfortable homes we had labored so hard to rear for the Comfort of our families . . . my heart did swell within me."
This site contains 1,100 acres of authentically restored homes and shops, including Brigham Young's home. The historic district in the town of Nauvoo contains streets, 18 restored houses, shops, and a visitor center.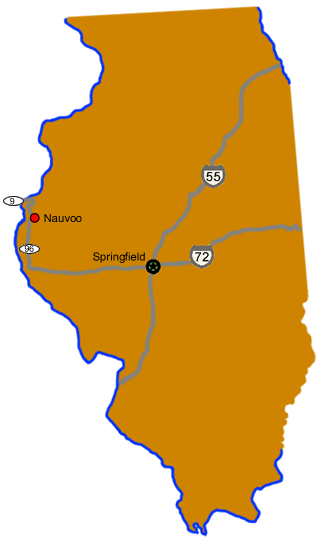 More Mormon Pioneer NHT sites:
Last updated: February 5, 2020