Mount Pisgah
Mount Pisgah - Thayer, Iowa
A Mormon way station from 1846 to 1852, at its height Mount Pisgah had over 2,000 inhabitants. Like Garden Grove, it was a semi-permanent camp for the benefit of Mormons who followed the Pioneer Company.
On May 19, 1846, Orson Pratt wrote, "We concluded to form another settlement here, for the benefit of the poor, and such as were unable, for the want of teams, to proceed further. Accordingly, the camp commenced building houses, ploughing, planting, and fencing in farms, an immense quantity of labour was performed in a very few days."
Today, the old campsite is a nine-acre park. The site contains interpretive wayside exhibits, historical markers and a reconstructed log cabin.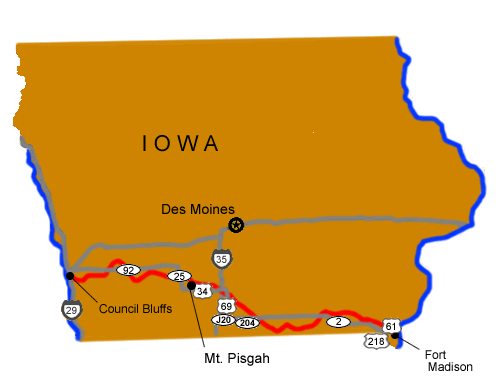 More Mormon Pioneer NHT sites:
Last updated: February 10, 2020