Things To Do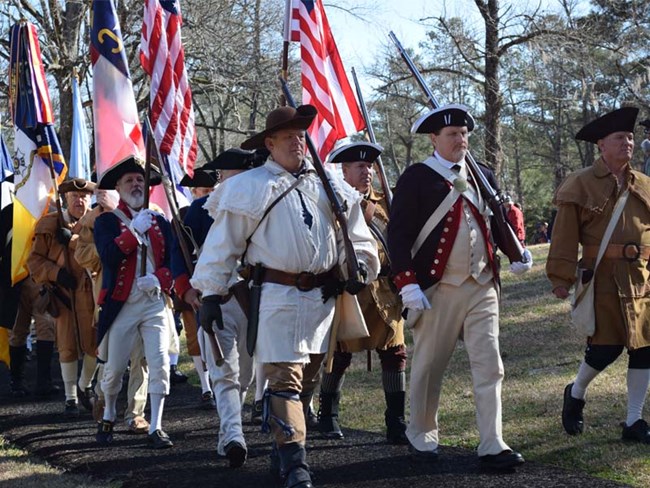 Anniversary
Come join us for our largest celebration each
year. Taking place over the course of the last full weekend in February, family-friendly activities include musket and cannon demonstrations, militia encampments, living history demonstrations, live music, and much more. For a listing of event details, to include daily activity schedules for the anniversary, please check out the Schedule of Events or find us on Facebook as we get closer to the event.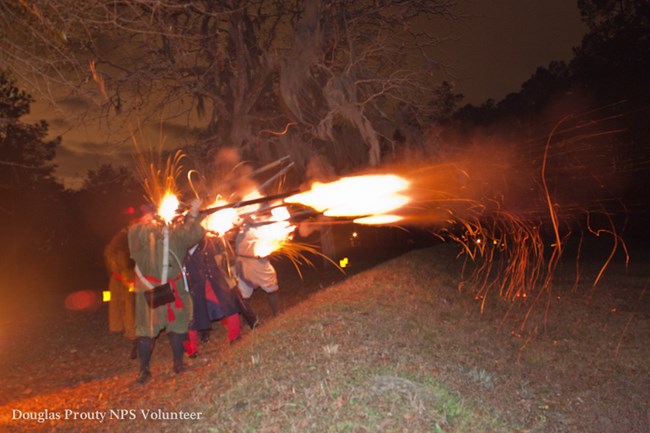 Candlelight Tour
Every year on the third weekend in November, Moores Creek travels back to 1776. The park will be illuminated with more than 600 candles along a 3/4-mile path. Throughout the evening, your guided tour willl encounter reenactors who will recount the Battle of Moores Creek Bridge. As you approac the bridge, bagpipes fill the air as Scottish Highlanders wielding broadswords meet you on the path. They lead you across the bridge on a charge up the causeway where you will be met with the sights and sounds of musket and cannon fire. The cost of this event is $3 per person. Children 12 years and under are free.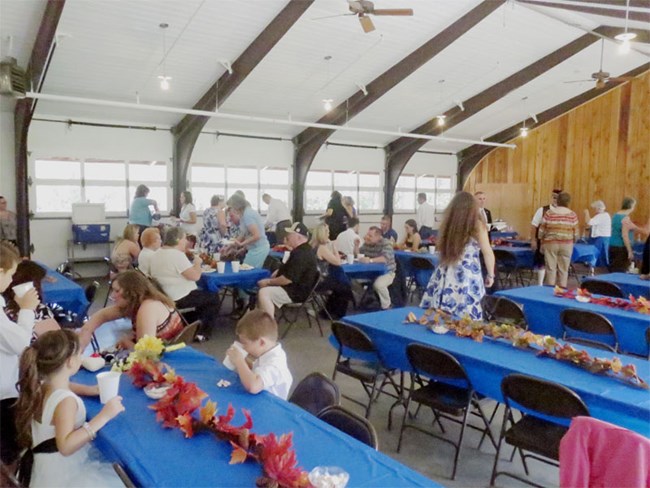 Patriots Hall
If you have an upcoming event, Patriots Hall might be just what you are looking for. The facility has 8 bay doors that can be opened or closed depending on the weather. The building is approximately 50 feet long by 35 feet wide, and offers men's and women's restrooms, power outlets, and many tables and chairs. To reserve the facility, you must submit a $50 application fee and complete a Special Use Form. An additional $100 must be paid by the date of use. For more information, contact Matthew Woods at 910-283-5591 or matthew_woods@nps.gov.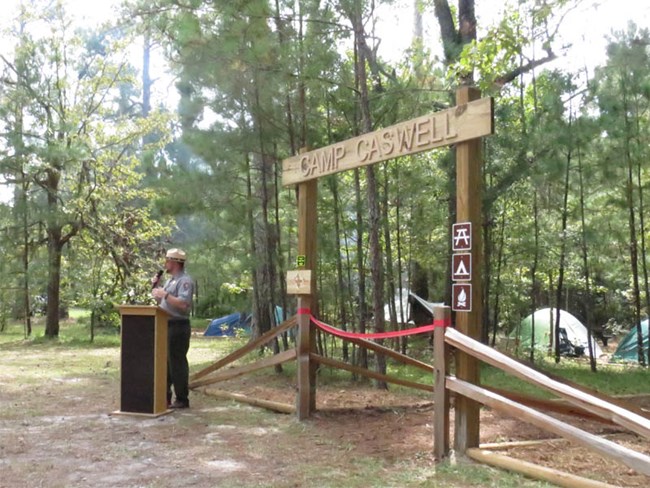 Camp Caswell
The park's newest addition, Camp Caswell, is a community campsite intended for the use by local Boy and Girl Scout Groups, as well as Venture crews and community youth groups such as church youth or the YMCA. The campsite consists of 20 tent sites, 3 fire pits, and three picnic benches. There is a $50 fee associated with using the site, and the charges may be higher for larger groups. This fee also includes the use of firewood. Additionally, a Special Use Form must be completed in order to reserve the site.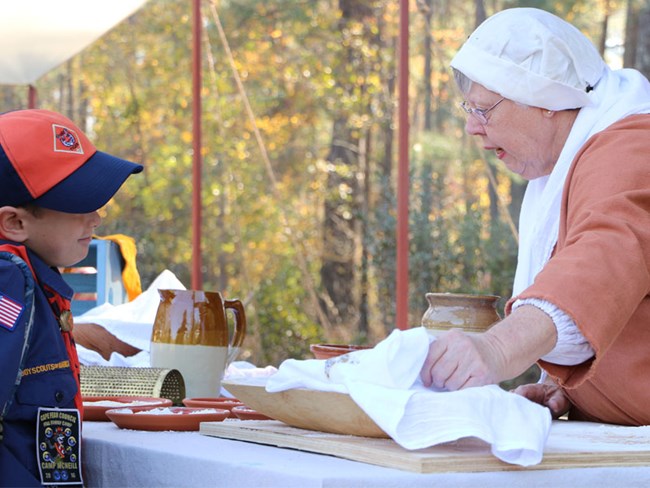 Living History
Moores Creek hosts regular Living History events throughout the year. These events range from full-day weekend programs to small informal presentations. Staff and volunteers conduct black powder demonstrations, historic tradeskills and other 18th century activities to help connect visitors with Colonial life. For more information on when these events will take place, contact us at 910-283-5591 or follow us on
Facebook
.


Last updated: March 24, 2020