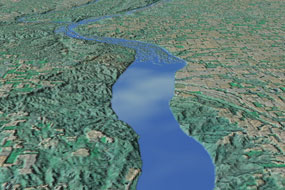 Virtual Flyover
If you want an idea of what the Missouri River and the surrounding terrain between Sioux City, Iowa, and Fort Randall Dam look like, here is your opportunity.
TIP! If you do not have a high speed internet connection, save the file to your hard drive before viewing [right-click on the link and select "save target as" from the popup menu that appears].
Recreational River Flyover [4.6 mb]. Requires QuickTime.
Living History Audio
Reenactors telll stories of life on the river and more. Click Here.