Nicollet Island Park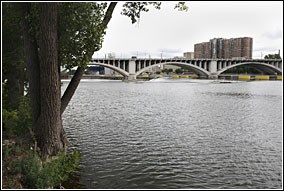 Introduction
Nicollet Island is located just north of St. Anthony Falls in Minneapolis, and is crossed by the Hennepin Avenue Bridge connecting downtown and northeast Minneapolis. The island contains numerous Victorian-era homes, and acres of park land and trails for jogging, biking, and walking.
History
Both the park and island are named for Joseph Nicollet, who visited the St. Anthony Falls area in 1838. Nicollet, a scientist by training, had led many expeditions exploring wilderness rivers in North America and had seen magnificent waterfalls. Yet he described St. Anthony Falls as an "imposing spectacle."
Nicollet's view, of course, was of a falls in its natural state with its constant roar, boiling mists, and downstream rapids surging amidst tree-studded islands. Eagles nested on the islands and soared overhead. Schools of fish spawned in the rocky shoals below the falls.
The falls, however, wouldn't remain in its natural state much longer. Ten years after Nicollet wrote about the falls, Franklin Steele constructed the first dam in this area to power his sawmill built on Nicollet Island. Steele's dam began the transition that took the river, once dominated by natural physical forces, to one being increasingly shaped by humans.
In 1865, William Eastman and John Merriam bought Nicollet Island and began construction of an ill-fated water race to power a sawmill located on the island. The tunnel collapsed threatening the integrity of the falls, and perhaps the future of the growing cities on the river's shores whose industry depended on water power. The Army Corps of Engineers finally stopped the erosion by forcing water towards the center of the falls, building a concrete apron to protect the bed of the falls, and constructing a concrete dike across the river just south of Nicollet Island beneath the limestone cap to prevent the rushing from undermining the falls.
Nicollet Island was also been home to a papermill built in 1859, which supplied much of Minnesota's paper needs at the time. Today, the northern end of the island contains a number of fine, historic homes built in the mid- to late-1800s.
Activities
Amphitheater, picnicking, walking and bike paths, concessions, gardens, public art, good views of the horseshoe-shaped dam. The Nicollet Island Pavilion is available for rent.
Hours, Directions, and Contact Information
Nearby Sites
Boom Island Park, Grand Rounds Scenic Byway, Stone Arch Bridge, Pillsbury Park, St. Anthony Falls District, Mill City Museum, Upper St. Anthony Lock and Dam, Father Hennepin Bluffs Park, Ard Godfrey House
Last updated: February 28, 2020