Water Power Park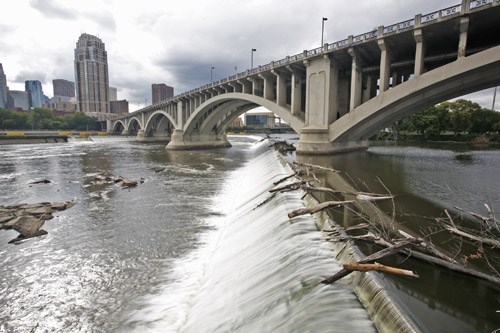 Introduction
Located in the heart of the St. Anthony Falls and east bank milling district, this small park has great views of the falls. Interpretive panels describe the re-engineering of the falls from a natural cascade into one harnessed for industry.
History
The history of this area is largely about power: spiritual, physical, and political. Native American regarded the falls as having significant spiritual power. Logging interests floated logs south to the falls, where entrepreneurs built sawmills that tapped the power of the falling water to cut the logs into lumber. Other industrialists used the falls to power flour mills.
Both logging and flour industries declined, but St. Anthony Falls still represented a significant source of power and in 1882 a commercial hydroelectric power station harnessed the power of the falls at this location. The advent of hydroelectric power profoundly changed the way local communities developed. Energy-dependent businesses once had to be on the river bank to gain access to the power of falling water using turbines or waterwheels.
After the advent of hydroelectric power generation, businesses could tap the enormous power of the falls in the form of electric power transported through cables, allowing them to locate far away from the river.
Hydroelectric power represented a form of power that would have great effects on the region and spur a national discussion about rivers and their uses. A growing nation would wrestle with who would control river resources, whom would benefit, and how competing claims would be accommodated. This vital discussion continues to this day.
Water Power Park commemorates the nation's first commercial hydroelectric generation station and how hydroelectric power changed the nation.
The power plant, which still generates about 12 megawatts, is on the National Register of Historic Places.
The 1.4 acre park is owned by Xcel Energy and was created as a condition of the re-licensing agreement for its St. Anthony power plant. While owned by Xcel Energy, the park is managed by the Minneapolis Park and Recreation Board.
Activities
The park has foot trails, bike paths, and benches. Visitors obtain great views of the river and dam that tamed St. Anthony Falls. Interpretative panels illustrate the area's rich history.
Walks and Hikes, History and Culture
Hours, Directions, and Contact Information
This park is currently closed until mid-June, 2023 to complete restoration work after this year's spring flooding.
This park is normally open from mid-March through the end of November from 8 a.m. to midnight.
204 Main St. SE, Minneapolis, MN 55414
GPS: 44.984058, -93.254694
Contact the Minneapolis Park and Recreation at (612) 230-6400 for more information.
Nearby Sites
St. Anthony Falls Visitor Center
,
Stone Arch Bridge
,
Father Hennepin Bluffs Park
,
Grand Rounds Scenic Byway
,
St. Anthony Falls Historic District
, Nicollet Island,
Boom Island Park
,
Mill City Museum
,
Mill Ruins Park
Last updated: May 26, 2023