The Wayside: Home of Authors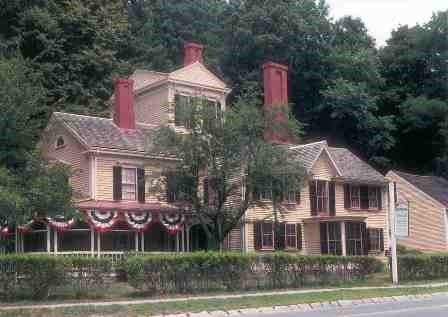 The Wayside has been home to three literary families: the Alcotts, Hawthornes, and the Lothrops. The first literary site added to the National Park Service. The Wayside is the only National Historic Landmark to have been lived in by three literary families. Their home and works span more than three centuries:
The Alcotts, who owned the house from 1845-1852, called it "Hillside." Here Louisa May Alcott, author of Little Women, and her sisters lived much of the childhood described in the book.
Nathaniel Hawthorne, wrote

The Scarlet Letter, House of the Seven Gables, Twice Told Tales, and other novels and publications. He and his family owned the house from 1852 through 1869 and called it "The Wayside."

Harriett Lothrop, children's author and creator of the "Five Little Peppers," (pen name Margaret Sidney) and her daughter, Margaret Lothrop, lived in and preserved The Wayside from 1883 to 1965, when it became part of Minute Man National Historical Park.
Built in the early 1700s, different families, many tradesmen and their families, lived in the house during it's first century. .On April 19, 1775, when fighting between colonists and British soldiers ignited the American Revolution, the house, located on the main road in Concord, witnessed the British troops marching in and out of town.At that time, the house was owned by Samuel Whitney, muster master of the Concord Minute Men.
During the 19th century, Nathaniel Hawthorne and Louisa May Alcott, along with their neighbors Ralph Waldo Emerson and Henry David Thoreau, and other authors such as Henry Wadsworth Longfellow, Herman Melville, and others, began a literary tradition recognized as distinctly American. As part of the first generation to inherit the Revolution, these writers helped shape the new nation's cultural identity.
In their work and their personal lives, these writers grappled with the lasting significance of April 19, 1775 and some of the unresolved issues of the American Revolution, notably slavery. While in the house in the 1840s, the Alcott family aided at least one run-away slave on his flight to freedom.The Wayside is now a site on the National Underground Railroad Network to Freedom.
Navigation through The Wayside pages:
The Authors: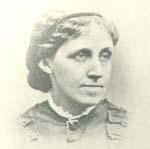 Louisa May Alcott: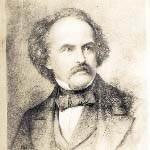 Nathaniel Hawthorne: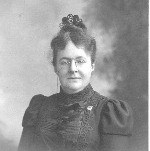 Harriett Lothrop:
Last updated: May 24, 2016