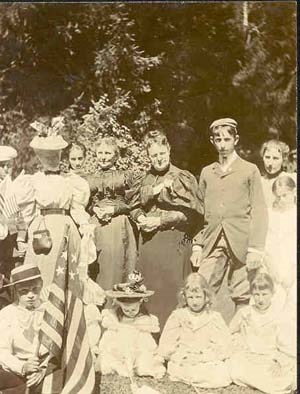 "Margaret Sidney," as hostess reigns well, and exhibits one secret of her success in the writing of books…she puts aside her own personality and throws her whole heart into whatever interests those around her.It is impossible to forget this when talking to her, and the delightful atmosphere…was due largely to this influence. - Boston Evening Transcript, 1887
Harriett M. Stone was born on June 22, 1844 in New Haven, Connecticut.Although her life spanned more than half of the 19th century, we know little about her until the 1880s when her "Five Little Peppers and How They Grew" appeared in Wide Awake, a children's magazine, and she met and married its publisher, Daniel Lothrop.
Together they bought Hawthorne's home, The Wayside in Concord, Massachusetts in 1883.From that time on, her boundless energy and sunny disposition was seen in all that she undertook –raising her daughter Margaret who was born at The Wayside in 1884, writing for children under the pen name Margaret Sidney, founding the National Society Children of the American Revolution in 1895, saving historic houses, and celebrating with grand fetes the rich heritage of The Wayside and the people who lived there.
From 1881 to 1892, she and Daniel worked together. After his death, Harriett pursued their goals alone.With little money left after liquidating the D. Lothrop Company and paying the creditors, she mortgaged the house in order to pay for Margaret's college education and provide her the opportunity to travel abroad as Daniel would have wanted.