News Release
Major collection of rare African American archives donated to National Park Service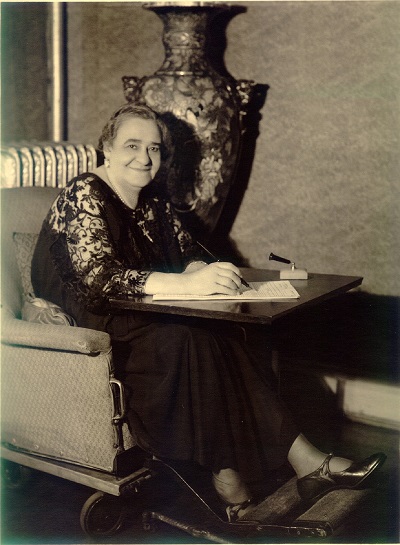 News Release Date:
December 8, 2020
RICHMOND, Va. – A large, private collection of century-old documents from the desk of Civil Rights icon Maggie Lena Walker is now public, thanks to a generous donation from Margaret Stallings and family. The Stallings' gift includes elements of Walker's personal and professional correspondence as well as institutional records generated by the predominantly female office staff of Walker's Black fraternal organization, the Independent Order of St. Luke (IOSL). 
 
Spanning 40 linear feet, the tens of thousands of records in this trove nearly double Maggie Walker's known written legacy. The counterparts to this collection have already been protected and preserved in the archives of the Maggie L. Walker National Historic Site, where they have fueled public scholarship over the past four decades.
 
"We are indebted to the generosity of Margaret, Wanda, and Ron Stallings for this incredible collection," remarked Superintendent Doyle Sapp. "We are grateful for this public donation and excited to uncover new dimensions of Mrs. Walker's contributions to the progress of women and African Americans in Jim Crow America."
 
From 1899 until her death in 1934, Maggie Lena Walker ran the IOSL from its headquarters in Richmond, VA. Under Walker's visionary leadership, the IOSL grew from a dwindling mutual aid society to a thriving and competitive insurance empire, totaling 100,000 policy-holders nationwide. Recognizing that the economic empowerment of Black women was central to uplifting the African American race as a whole, Walker steered the IOSL into job-creating enterprises including a Black-owned department store, a weekly newspaper, and famously, the St. Luke Penny Savings Bank - the first bank ever chartered and run by an African American woman. Walker oversaw these operations from her office in Richmond's St. Luke Hall, the recently restored office building owned by the Stallings family.  
 
In addition to documenting the internal operations of the IOSL, these archives include external correspondence between Walker and her peers, Civil Rights leaders such as W.E.B. DuBois, Nannie Helen Burroughs, and Mary McLeod Bethune. Other tangential material includes booklets, certificates, and published reports from the National Association for the Advancement of Colored People (NAACP), the National Association of Colored Women (NACW), and Richmond's Council of Colored Women.
   
This gift was partially supported by a Women in Parks grant, the National Park Foundation's philanthropic initiative commemorating the centennial of the 19th Amendment. Additional assistance came from students at the College of William and Mary and volunteers from the Maggie L. Walker Community of Williamsburg who diligently indexed and transcribed a significant portion of the materials prior to their formal donation to the National Park Service.
   
Upon accession to the archives at Maggie L. Walker National Historic Site, the Stallings' donation will be processed and ultimately digitized for greater accessibility.
   
"Maggie Walker never wrote a memoir or autobiography," remarked curator Ethan Bullard. "Instead, she trusted her supporters and future researchers to tell her story. With this profound new resource, Walker's legacy is ripe for a fresh generation of nuanced and insightful scholarship. Countless articles, books, documentaries, public art, and this very National Park have already been created without access to these papers. Imagine what these new archives hold for the future of history." 
Last updated: December 8, 2020