News Release
"Matinee with Miss Maggie" 2022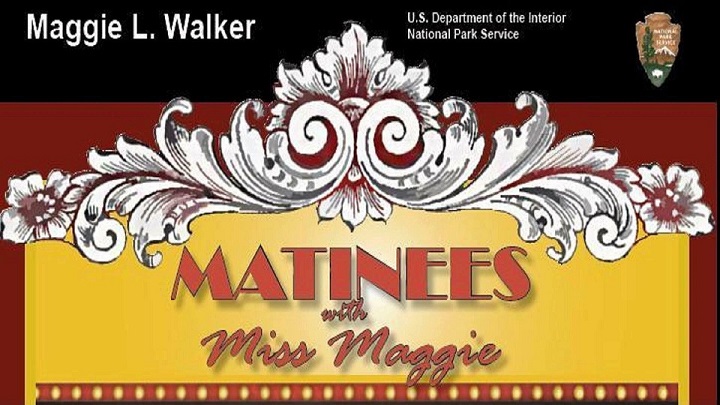 News Release Date:
January 21, 2022
Contact: Ben Anderson
Maggie L. Walker National Historic Site to Host Virtual "Matinee with Miss Maggie" 
RICHMOND, Va. – To commemorate Black History Month, Maggie L. Walker National Historic Site will again host its popular "Matinee with Miss Maggie" program.  Due to the pandemic, the program will be held virtually on Saturday, February 19, with the film beginning at 1 pm followed by a discussion.  This online event is free and open to the public. 
 
This year's selected film, Imitation of Life, addresses one of the questions often asked by visitors to the site upon seeing photographs of Walker's fair complexion: "Did Maggie L. Walker ever pass for white?" While historical evidence suggests she never did so on purpose, "passing" was something many Black people who shared her light skin tone chose to do in Jim Crow America and beyond. The 1934 film Imitation of Life was among a variety of stories told about racial passing during Walker's time, exploring a topic that remains a point of fascination today. The public is invited to join a park historian in viewing Imitation of Life and discussing the significance of racial passing, both in Walker's time and now. To sign up for this free event, please contact Park Ranger Ben Anderson at Benjamin_Anderson@nps.gov. 
The Maggie L. Walker National Historic Site has been a unit of the National Park Service since 1978. Guided tours of her restored home in historic Jackson Ward are given by National Park Rangers and available by reservation. The park visitor center is open Tuesday through Saturday, 9:00 am to 4:30 p.m. Additional information is available at 804-226-5041, or on the web at www.nps.gov/mawa or www.Facebook.com/MaggieLWalkerNHS. 
Last updated: January 21, 2022