Operating Hours & Seasons
November 24, 2019 - March 28, 2020

Boott Cotton Mills Museum
115 John Street
Open Daily:
12:00 noon - 5:00 p.m.
Mill Girls and Immigrants Exhibit
40 French Street
Open Daily:
1:00 p.m. - 4:30 p.m.
Visitor Center
246 Market Street
(Free Parking at 304 Dutton St.)
Open Daily:
9:30 a.m. - 5:00 p.m.
Canal Boat Tours
Closed for the Season,
Returning May 2020.
Mill and Trolley Tour
Closed for the Season,
Returning Spring 2020.
Downtown Walks
Check Our Special Events Calendar For Upcoming Walks
Visitor Center-Boott Mills Trolley Shuttle
Daily Trolley Service Ends November 29th-
Check at Visitor Center for Schedule
(Weather may limit operations)
Northern Canal Walkway
Reopens May 15 if Water Levels Allow - More Details.
* The park is closed on December 24, December 25, and January 1 *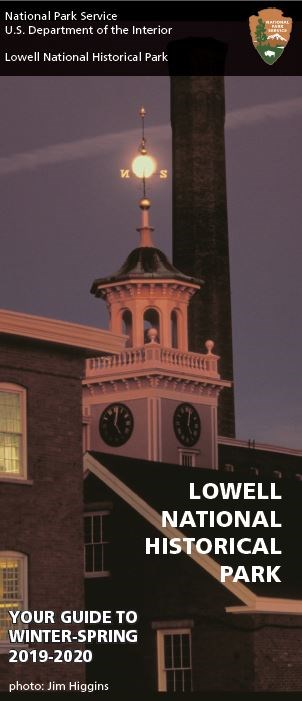 Download the Winter & Spring 2019-2020 Lowell National Historical Park Offerings Program, your guide to tour schedules, exhibit opening times, and special events.

Download a Map of Lowell National Historical Park and downtown Lowell.
Last updated: December 21, 2019